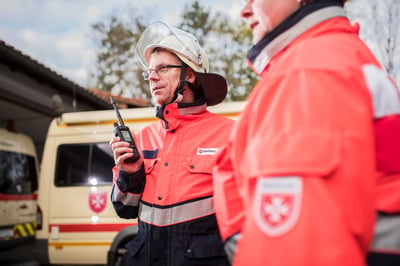 Across the country, leaders are improving collaboration in healthcare through communications technology, and having a direct impact on patient experience, cyber security, and facility security.
Collaboration with patients
Patient care is one of the many areas that benefit from communications technology. Online patient portals and other tools are increasing patients' access to their personal health records, and healthcare consumers are enjoying more engagement with their own care than ever before.
In the "2017 Patient Engagement Perspectives Study" by CDW, 70 percent of patients said they had become more engaged with their healthcare during the past two years, up from 57 percent in 2016. In addition, 74 percent of patients reported joining a patient portal offered by their health care provider, up from 45 percent in 2016.
On the provider side, 71 percent said patient engagement was a top priority at their healthcare organization, up from 60 percent in 2016. Providers reported that online portals have improved patient care, as well as records tracking.
As patients become better informed about their conditions and care, they're expected to want more involvement in their treatment. An American Hospital Association survey found that 99 percent of hospital executives believed it was somewhat likely that patients will demand a larger role in the planning of their treatment by 2021.
Collaboration with IT
Another benefactor of improving collaboration in healthcare through communications technology is in IT security.
According to "The Rampant Growth of Cybercrime in Healthcare," data breaches cost the healthcare industry an estimated $6.2 billion every year, with the average breach racking up damages of $2.2 million and putting 3,128 records per incident at risk.
And the very tools and devices that are making life more convenient for patients and providers are the ones putting them most at risk. A Healthcare IT News study of C-suite executives, IT professionals, clinicians and department heads found that nearly 80 percent use tablets and almost 43 percent use smartphones to access the information needed to provide and coordinate care.
This is why strides in strengthening healthcare communications technology are so important. Industry recommendations for stepping up cybersecurity include:
Taking a full inventory of all medical and personal devices that have access to protected health information

Using two-way radios instead of smartphones for communication and

Providing a secure virtual private network (VPN) for staff to access healthcare information when they're off site.

Collaboration with onsite security
Improving collaboration in healthcare through communications technology also improves the security of the healthcare facility itself. Immediacy, reliability and dependability are just some of the reasons that people in the world's most mission critical jobs trust digital two-way radios to keep in touch, and that includes health care. Digital two-way radios also give health care settings independence from outside networks or commercial carriers.
Radios continue to replace smartphones as the go-to communication devices for medical providers and security staff, and two-way radios can be essential for improving interdepartmental communication.
The proper tools
In addition to two-way radios, these accessories can further address the unique needs of the healthcare industry and the diversity of departments that need to be covered. The following are a few examples:
Swivel Earpiece. The Adjustable D-Style Earpiece from Motorola is lightweight, versatile and designed to be comfortably worn for long periods of time.
Wireless Earpieces. Motorola's Operations-Critical Wireless Earpiece fits over the ear, and the microphone is directional and above the earpiece. Users can count on 10 hours of talk time.
2-Wire Surveillance Kit. The IMPRES 2-Wire Surveillance Kit has an earpiece on one wire and the microphone and push-to-talk on the second wire. The microphone can be easily attached to personnel's uniforms or held directly in front of the mouth.
Collaboration for better security overall
Still, with communications technology comes a larger need for enhanced precautions. Between January 2015 and the end of October 2017, there were 71 breaches reported to the Office of Civil Rights that involved portable storage devices, laptops, smartphones and tablets. In all, more than 1.3 million patients and plan member records were exposed.
Experts say the majority of data breaches can be prevented by having simple security best practices in place, such as requiring mobile device data to be encrypted. Other security tips and best practices include:
Having a full inventory of all devices that have access to protected health information, especially if your hospital has a Bring Your Own Device (BYOD) policy.
Including in your BYOD requirements the ability to remotely wipe devices of all data if they're lost or misplaced.
Using digital two-way radios instead of smartphones.
Allowing access only if the devices have the appropriate security controls in place, for instance, screen locks with strong passwords.
Requiring regular staff training on privacy and security.
Using only one of the secure smartphone apps for healthcare for texting and other messaging.
When they're away from the hospital, instructing staff to never use public WiFi to remotely access healthcare information and to use a secure virtual private network (VPN) instead.
Conducting a full risk assessment to identify vulnerabilities in every element of your operation related to data, including mobile devices and more.


Wireless technology can foster collaboration and deliver value across industries, including manufacturing, hospitality, education, and especially healthcare. To learn more, download our free resource, The Wireless Communication Survival Guide.