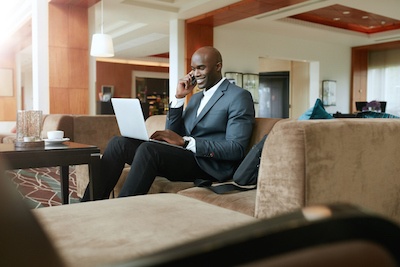 The reviews keep coming, and the message is clear: Guests give five stars to your hotel's ample amenities and friendly staff, but they have much less love for your unreliable WiFi.
When everyone from business travelers to high school marching band members have multiple connected devices per person – including laptops, phones and tablets – the system your property acquired years ago just isn't keeping up.
A few savvy strategies can put your hotel wireless on the fast track, and the reasons to upgrade are clear: higher guest satisfaction, competitive advantage and access to hospitality-related innovations. If you're considering it, research shows you're not alone.
This reference guide to improving hotel wireless and increasing guest satisfaction covers:
Consumer demand for fast and free hotel WiFi
The hospitality industry's response
Industry innovations being driven by wireless solutions
3 strategies to improve your wireless solution
Consumers Expect Fast and Free Hotel WiFi
A recent Cornell University survey has confirmed what you probably already know about your ever-more-connected customers: Hotel guests want to use their mobile devices in more ways than are currently available, so the demands on hotel wireless are greater than ever.
The survey, which is detailed in a report aptly named "The Mobile Revolution Is Here: Are You Ready?", was conducted by the School of Hotel Administration's Center for Hospitality Research. Researchers asked more than 750 smartphone owners about how they currently use their mobile devices when they travel and how they would use them if they had the choice.
Guests of all ages said they want to use their devices for almost everything you can imagine, from checking in to ordering room service.
And a recent Red Roof Inn survey found that free and fast hotel wireless is more important to travelers than parking, complimentary breakfast or even location.
The survey of 800 economy and mid-tier travelers nationwide was conducted by Research+Data Insights and commissioned by Red Roof Inn. Respondents ranked free WiFi a close second only to cost as their top consideration when booking a hotel stay.
In other survey findings:
96 percent of respondents said they expect hotel WiFi to be free.
80 percent said they had a more favorable opinion of a hotel that offered free WiFi at guaranteed speeds.
One-third said they'd avoid booking at a hotel that didn't offer free WiFi.
And they ranked the most common hotel wireless issues as:

slow connection in rooms (69 percent);
poor connection in common areas (41 percent);
upgrade fees for faster WiFi (32 percent); and
inability to stream or game (27 percent).

Millennial travelers are driving many of the wireless trends, and according to the survey, they are two times more likely than other age groups to use hotel WiFi to stream video or music and play online games.
Looking to Upgrade Your Hotel WiFi? Survey Says You're Not Alone
If you're planning or considering upgrades to your hotel WiFi this year, another recent survey says you aren't alone: the global Zebra Hospitality Vision Study reports that more than three-quarters of the hotels/resorts surveyed worldwide are expanding their WiFi coverage.
For the global report, Zebra Technologies Corporation surveyed nearly 1,200 hotel and resort workers and almost 1,700 consumers in two global studies.
The survey found that:
77 percent of hotels are planning to expand their WiFi coverage.
74 percent are planning to implement location-based technologies within the next year so that they can create customized offers and perks for guests.
74 percent of guests said they appreciate when hotels and resorts customize messaging and offers to them personally. And 75 percent said they're willing to share personal information, such as gender, age and email address, in exchange for tailored promotions, coupons, priority service or loyalty points.
66 percent of guests say they have a better experience when hotel staff use the latest technology.
And 68 percent of guests said they'd like to use their smartphone to speed up the check-in process.
Technology is Driving Hospitality Innovation Like Never Before
In response to consumer demand, some of the world's largest hotel chains are already responding with guest-facing wireless transformations as well as enhancements to make sure their secure communications equipment protects people, property and data.
Digital Keys
Both Starwood and Hilton have piloted programs that allow guests at participating properties to check in and unlock their rooms through a mobile app and Bluetooth. The Hilton app also allows guests to choose their rooms themselves. Guests using the app receive a notification when their room is ready and the option to select SPG Keyless or Hilton's Digital Key.
SMS communication
In December 2014, the Hyatt Regency Bellevue in Seattle became the first hotel to launch a system that connect guests and staff through SMS text messaging, digital signage and interactive touch tables in the lobby using a single platform. Through Connect CMS, guests can receive push notifications about their rooms, text with staff about requests for service and reservations, and access the information on digital signs, such as flight details and restaurant recommendations, from their mobile devices. The property's director of rooms has estimated the system immediately saved $20,000 in expenses.
Minibar sensors
Sensor-enabled minibars allow hotels to know instantly when an item has been removed from a room minibar and for how long. If the item isn't replaced after a preset period of time, say 60 seconds that allow for a curious guest to look at the nutritional content of something, then the item is charged to the room. Charges are verified during daily checks by cleaning staff.
Traveling In-Room Handsets
At designer Alex Perry's luxury apartments and hotel in Brisbane, Australia, guests can take their in-room telephone handsets anywhere on the hotel property without fear of dropping calls or losing coverage.
The hotel's Ruckus Wireless system includes 140 wireless telephones across 12 floors that use the Ruckus R600 indoor 802.11ac wave 2 access points. This solution delivers both the guest WiFi network and commercial grade telephony, as well as coverage for staff operations.
3 Strategies to Improve Your Wireless Solution
Before you get overwhelmed about the need to update your wireless solution, keep these 3 strategies in mind:
1. Invest in the best equipment.
Reliable service, unmatched speed and affordable pricing have made the Ruckus Wireless Zone Flex the gold standard among the world's largest hotel chains looking to step up their WiFi game. Ruckus reports that at hotels that have deployed the Zone Flex, complaints about the wireless have dropped by 80 percent or more as guests make note of faster connectivity, stronger signals and more consistent performance. Hotels have even been able to leverage the network for the automatic locks on guest room doors and minibars, and for tablets for staff to check guests in and out from anywhere on a property.
Make sure your access points are well-placed.
Wireless access point (AP) placement can mean the difference between complete and consistent coverage and the choppy connectivity that has guests heading to your nearest competitor. APs should be placed to minimize interference and maximize their capacity. That generally means in guest rooms and not in hallways, and with easy accessibility, not above ceiling tiles.
And quantity doesn't always equal quality: most hotels find that they can improve their wireless performance with far fewer APs than they currently have. Research to make sure that your service provider understands the needs of your property and isn't giving you more than necessary.
Once you're done making improvements, let the world know.
HotelWiFiTest.com is a site that's been garnering buzz for letting travelers check the WiFi quality at hotels before booking a stay. That can be bad news if your wireless has nothing but bad reviews.
But the site also lets hotels monitor their WiFi to identify problems, post publicly about improvements and add a widget to their websites touting their WiFi speeds. Working with the site can give hotels an opportunity to turn what was once a liability into a booking-boosting asset.
Hotel WiFi Not Just An Amenity
"Wireless is no longer just another amenity at hotels. It's become a prerequisite for doing business," says Pat Devlin, managing director of Ruckus Wireless ANZ, which handled the communications at Alex Perry's Brisbane hotel.
Thanks to advancements in technology for both consumers and properties, it's never been easier or more cost-effective for hotels to deliver the fast WiFi and convenience that guests have come to expect.
Upgraded wireless isn't just a win-win, it's the future.
To work with a communications partner who has improved wireless performance in facilities like yours, contact Chicago Communications today!