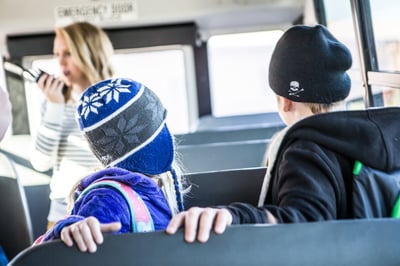 The need for educators to take every opportunity to improve school safety and ensure the well-being of students, faculty and staff has never been more important. To do this, technology is imperative. Here, we look at how team communications for schools can let all parties instantly connect, use their own preferred devices, and take advantage of added intelligence for incident management.
The need for improvement
First, it's important to know that if the need for school security has increased at your facility, you are not alone. One professional at the Stoughton School District in Wisconsin wrote, "The safety and security of our students is our number one priority. The kinds of things that have happened over the last 10-15 years in schools, it's really pressed on the need to improve safety, security, and along with that comes improved communication."
How team communications for schools can help
To meet this need, secure communications equipment is essential. And many schools across the United States use Team Communications from Motorola Solutions to deliver unified voice and data to administrators, teachers, maintenance, security, coaches, and other personnel, improving decision making, increasing visibility into school activities, and ensuring students thrive in a safe environment. The system is effective based on three important reasons:
Instant communications. With this technology, a dedicated two-way radio communication system unites key personnel with instant, always available communications. Operating on a private system, critical communications remain open and available for coordinating teams — even if the local commercial carrier cells are swamped with calls and messages from anxious parents.
Communication without boundaries. Another benefit of team communications for schools is that it allows everyone to connect on their preferred devices. For some schools, outfitting all teachers, administrators, and facility personnel with two-way radios is not practical, either in terms of budget or user preference. But through team communications, the push-to-talk technology, immediate connection, and security of a two-way radio system can be expanded to any device, on any network. With an application on their preferred device and connectivity to a network — whether commercial carrier, WiFi, or LAN — all users can communicate with the radio network as if they were using a radio.
Added intelligence. Finally, team communications for schools can give incident management security teams the edge. The sheer amount of information available to school personnel can be daunting. But with team communications for schools, data from video surveillance, GPS tracking, and security alarms and monitors can enable users to monitor buses, assets, and staff in real time. Information can be quickly shared with the right people at the right time.
Simply, the Team Communications solution empowers educational institutions to transform how they communicate, enabling individuals to share real-time information to make schools safer and staff more productive. School safety teams can improve safety and security across the school and communicate with first responders in real-time. Teachers can connect with other personnel using their preferred device and stay in contact from anywhere.
Further, the solution can be a cost-effective method for improving school safety. Superintendents, principals and administrators can maximize their existing infrastructure and investments and enhance communications even if budgets are stretched.
Team Communications from Motorola Solutions provides reliable, continuous communication among school personnel, both onsite and district-wide, plus the ability to instantly connect with first responders in an emergency. To learn about what this technology can do for your school system, contact us.