When Illinois gas company Aux Sable expanded its processing plant to increase natural gas liquid production, the company looked to Chicago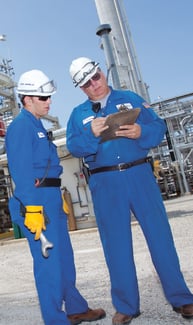 Communications as their Motorola dealer to add to and enhance its MOTOTRBO digital radio system – not only for regular employees, but for contractors.
Aux Sable is one of the largest natural gas liquid (NGL) extraction and fractionation facilities in North America. A major player in the midstream gas processing business, Aux Sable operates facilities and pipelines in some of the most active shale positions on the continent, including Alberta, Canada and North Dakota.
Here's how Chicago Communications worked with Aux Sable to create a safe and productive way to meet their changing communication requirements.
The Requirements: Radio Communications to Enhance Safety and Productivity
Aux Sable's operation involves the routine handling of flammable and explosive gases, vapors and liquids. Flawless safety is the constant priority, in particular minimizing the risk of fire or explosion.
Equipment on-site must be certified "HazLoc": suitable for use in hazardous locations. MOTOTRBO HazLoc two-way radios and accessories are certified to international standards, and are carefully designed not to produce any source of ignition in operation - even the tiniest sparks.
Teams of outside crews work daily on the expansion of Aux Sable's Illinois site. Instant, reliable communications are imperative with so many people in the field. "We have contractors that are welding and performing hot work," says Anselmo Hernandez, Jr., Process Supervisor. "They have fire watches to make sure if any sparks occur, they can call for help. We have an emergency plan prepared in advance, but it is only effective if they can communicate with us immediately so we know what's happening."
The Solution: MOTOTRBO Digital, Plus Ongoing Service
Chicago Communications worked with Aux Sable to provide more than 200 MOTOTRBO HazLoc radios, seven MOTOTRBO base stations in the company's rail cars and trucks, and four MOTOTRBO repeaters operating in Capacity Plus. Aux Sable's MOTOTRBO XPR 6550 radios were supplemented with new MOTOTRBO XPR 7550 radios. Additionally, three dozen portables are loaned out daily to contractors doing critical work, such as welding, along with construction foremen. The single-site system used by Aux Sable makes adding new radio users easy.
"Our operations personnel in the field act as the eyes and ears for our control room operators. They open and close valves, start and stop equipment, check pressures and fluid levels. Regular communication back and forth is absolutely critical," says Anselmo Hernandez, Jr., Process Supervisor.
As Aux Sable's service contractor conducting preventative maintenance and monitoring of the MOTOTRBO system, Chicago Communications ensures the company is using the full capacity of the MOTOTRBO system and the latest upgrades, providing 24/7 support to make sure they are up and running around the clock. Such support is critical in preventing uptime from being negatively impacted by, for example, issues with a repeater.
Read the complete Motorola dealer case study on how we developed the best radio solution to support safety and productivity at Aux Sable.
To learn more about Motorola digital radio technology and how it can benefit your company, contact Chicago Communications to set up a free consultation.