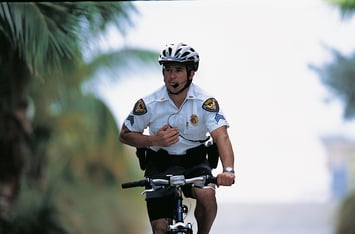 Police officers on bicycles have become incredibly popular in urban environments across the country. They are seen at local festivals and events, but also maintain a presence throughout the city for a large portion of the year. This is due to the flexibility and efficiency of being on a bicycle – officers can maneuver through busy streets and traffic far easier than those in a car could, and also save a lot of money in the process (no gas needed for a bike!).
With the influx of two-wheel officers in our communities, it is essential to equip them with the proper communication tools needed to be just as responsive as they would be in a vehicle. The best solution for this is often two-way radio headsets.
Benefits of Two-Way Radio Headsets
Headsets are important for a variety of reasons. For example, if an officer is relying on the two-way radio itself for communication, he'll need to remove a hand from his bicycle to use it. Obviously, you want your officers to be as safe as possible on the streets, so keeping their communications hands-free is a must.
Another benefit of using a headset is improved sound quality. Some police officers use an external clip microphone (right on their shirt) to communicate, but those microphones are so far from their mouth that they tend to pick up noises from around the area. This means that if an officer is patrolling a parade or festival on bike, he may be hard to hear unless he pulls the microphone close – recreating the hands-free issue mentioned above.
If the officer is equipped with the right headset, however, he can communicate in the loudest of environments without any issues – not to mention maintain control of his bicycle at all times.
Things to Consider When Buying a Headset
When it comes down to it, the officers should be able to use a headset comfortably and reliably. Here are some things you should consider when looking into two-way radio headsets for your officers.
Fit and comfort: What would officers find most comfortable and functional? Options include earpieces and over-the-head bands, but some may be more comfortable than others. Try a headset out and ask your officers for feedback on what they would prefer. At a minimum, the headset should not be so uncomfortable that it distracts them.
Push-to-talk: Things happen fast in public safety, and officers need to be able to communicate instantly when something occurs. Much like the technology in two-way radios, some headsets offer the ability to communicate with just a single push of a button. This is referred to as Push-to-Talk, or, PTT.
Noise Technology: That scenario mentioned early is very common – an officer on a bicycle patrolling a parade or festival. Those are loud environments, so the headsets need to offer some degree of noise-cancelling technology.
Bluetooth: Yes, the same wireless technology you have on your smartphone can be found in some headsets. If going wireless is essential to the functionality of your communication, and it is compatible with your current radios, Bluetooth is a great feature to look for.
At the end of the day, you want your officers to feel comfortable with their equipment, and you want that equipment to help them do their job. To learn more about finding the right communication equipment for your public safety agency, contact Chicago Communications today.