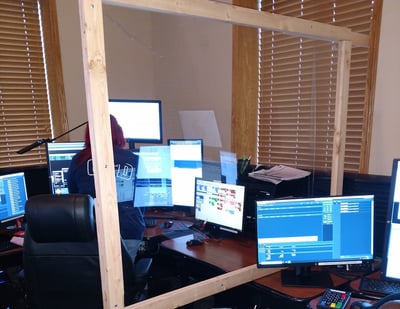 In response to the coronavirus pandemic, many dispatch centers have begun modifying work environments to encourage social distancing. But with a flood of advice from news sources, health experts, and local government, how do you know which modifications to tackle first? And which modifications are most effective without throwing budgets off‑balance?
For the most up‑to‑date information on COVID‑19, we always recommend checking these expert information sources:
Below, we outline specific modifications you can make to your dispatch center in the coming weeks. These changes will protect your staff and customers by lowering the risk of spreading the coronavirus.
Modifications for Social Distancing
According to the CDC, social distancing means "keeping space between yourself and other people outside of your home." It requires staying 6 feet away from others, canceling group activities, and avoiding crowded places.
Social distancing modifications for dispatch centers range from easy and inexpensive to more permanent solutions that could require budget changes. Modifying your dispatch center for COVID‑19 could include:
Explicit instructions. Safety officers should instruct dispatchers and support staff to maintain a 6‑ft. distance from one another in the workplace, hallways, and even outdoor spaces.
Privacy screens. Many grocery stores have opted to build plexiglass dividers to protect cashiers in the course of day‑to‑day business. The same modification works for dispatch centers. Remember, privacy screens are not as effective as redistribution throughout the building or switching to remote work arrangements. But they do offer low‑cost, low‑barrier protection against airborne respiratory droplets. Screens are a good first line of defense for tight spaces.
Temporary rearrangement. Remove one or more operator workstations from a room and station them in another section of the building. This requires moving some critical equipment. However, investing time in temporary rearrangements could be worth it considering the possibility of a months‑long public health crisis.
Building reorganization. Permanently segmenting your command center across multiple rooms in the building diminishes contact and risk forever. This requires moving the Radio Position, 9‑1‑1‑telephone position, and computer systems equipment. Dispatch centers that thoughtfully reorganize can stay fully staffed while still protecting workers during any future health crises.


Modifications for Remote Work
The World Health Organization's workplace recommendations say, "Teleworking will help your business keep operating while your employees stay safe." Moving to remote work arrangements is a logical, safety‑conscious conclusion. But uprooting your staff comes at a cost. It is expensive to move radio, 9‑1‑1, and CAD to laptops in employees' homes or a scattered network of buildings. Switching to remote work means sourcing new equipment and strengthening network security between countless buildings and the dispatch center. This is no easy task.
Changes for the Future
In the coming years, dispatch centers could evolve into remote workplaces. Dispatching would need to pivot toward building connections outside the center building.
Even before coronavirus spread across the United States, Forbes predicted that 2020 would be "the year of remote work." But Forbes also cautions managers against underestimating the risk to staff productivity.
To make the switch, dispatch managers need to create policies that safeguard against lower retention and productivity. Dispatch centers can plan ahead with contingency plans and budgets for the technology and networking necessary that will keep operations running smoothly from home.
For today, public safety officials must keep a sharp eye on the evolving health crisis. To find out more about 9‑1‑1 systems design and installation, schedule a free consultation.