When you're shopping for radios for your business, campus or agency, there are plenty of acronyms, numbers and lingo to keep track of, and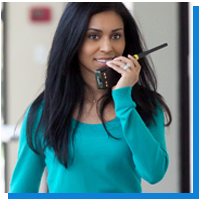 that includes two-way radio frequencies: UHF or VHF.
Deciding which frequency you need is one of the first steps you should take when you're upgrading, replacing or supplementing an existing fleet of two-way radios or choosing a handheld two-way radio for your team to use for the first time.
Let's take a closer look at how to decide which of the two-way radio frequencies you need.
The Radio Spectrum
Think of the two-way radio spectrum as a horizontal line, with low frequencies on the left and higher on the right, beginning at about 3 MHz up to 300 GHz. On the low end of the spectrum are communications such as submarine traffic, and on the high end are communications including satellite TV reception and scientific research.
UHF vs. VHF
UHF stands for ultra high frequency and occupies between 300 MHz and 3 GHz on the spectrum. UHF generally performs better in buildings, cities and urban environments.
VHF stands for very high frequency and occupies between 30 MHz and 300 MHz on the radio spectrum. It's best for use in wide open environments such as rural or secluded areas that are free of obstructions and potential interference.
(Bonus fact: "MHz" and "GHz" refer to the inventor of two way radio communication, Heinrich Rudolf Hertz.)
Who Wins?
For the most part, professional and public safety users find UHF to be a better fit, even those in rural areas. UHF is more reliable, higher performing and does better with structures.
Matching Your Current Radios
If you're currently using two-way radios and want to keep them online as you upgrade, particularly older devices, you'll want to match whatever frequency they're on or choose a device that has frequency flexibility to ensure interoperability.
Also remember that you want to be able to reach back into the past to communicate with what you have now and prepare for the future.
To learn more about creating and maintaining a successful two way radios system, contact Chicago Communications to set up a free consultation.