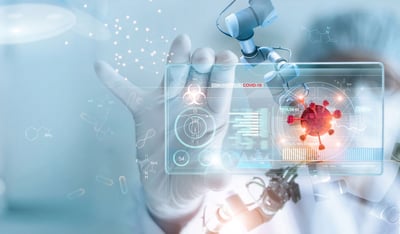 The global outbreak of COVID‑19 has fundamentally changed the way we interact with one another. Despite the turmoil of the last year, advances have been made in technology and healthcare. Innovative solutions and technologies can be carried with us into the future, pandemic or not.
Below, we explore the ways artificial intelligence (AI) has been used in the fight against COVID‑19.
What is AI?
According to the business technology news website ZDNet.com, artificial intelligence (AI) harnesses existing knowledge and applies it to a new, broader situation. It is, in essence, machine learning.
"Typically, AI systems demonstrate at least some of the following behaviors associated with human intelligence:
Planning
Learning
Reasoning
Problem solving
Knowledge representation
Perception
Motion
Manipulation
… and, to a lesser extent, social intelligence and creativity." ‑ ZDNet.com
AI in Daily Life
Even before the pandemic, daily life was filled with AI touchpoints. Here are examples from Forbes in 2019:
Apple's Face ID
Social media feed personalization
Your email service's spam filters
Google ads based on your search history
Smart devices such as the Nest thermostat, "smart" refrigerators, and Amazon's Alexa
Google Maps app (this varies suggested routes according to weather, time of day, and traffic patterns)
Netflix recommendations
AI and the COVID‑19 Pandemic
In November 2020, Healthcare IT News reported that healthcare companies' use of AI "nearly doubled after the onset of COVID‑19."
It's easy to see why machine learning was seen as an innovative, viable option for symptom tracking, identifying infection trends, and even pinpointing new treatment options for the virus. Time and scientists are both finite resources. In many ways, AI is not. It worked in the background — surveilling, tracking, calculating, and learning — while healthcare workers and researchers responded to immediate crises.
Below, we outline just a few examples of how AI technology was used to fight back against a global pandemic.
Limiting human contact with AI‑equipped service robots
During the pandemic, healthcare workers were stretched thin. They were also tasked with avoiding extraneous face‑to‑face interactions to help stop the spread of the virus. AI experts in Wuhan, China, found a creative solution to this challenge.
As CNBC reported, "Dubbed the Smart Field Hospital, the [field hospital staffed by robots] is a project involving Wuhan Wuchang Hospital, China Mobile and CloudMinds, a maker of cloud robotics systems based in China and the U.S." At the Smart Field Hospital, robots helped distribute meals and medicine to COVID‑19 patients. Because of AI, doctors and nurses could focus on their jobs rather than the "extra" service tasks of delivery and basic communication reminders.
Diagnosing and containing the virus
It's nearly impossible to test an entire population for a virus that spreads quickly and silently. Doctors and nurses were kept busy with critically ill patients during the pandemic, leaving little time for simple diagnostics. Thus, many healthcare technology companies created AI systems to help.
Diagnosis. One pilot AI program, COVID

‑

Net

,

taught machines to diagnose COVID‑19 based on chest radiography images. This helped medical personnel quickly determine whether an ill patient had COVID‑19 or another respiratory disease.
Containment. Pharmaceutical news site

PMLive.com

reported, "In the early stages of the outbreak, [Facebook] announced a 'suite of global disease prevention maps, as well as a survey tool for identifying coronavirus hotspots', [that] worked on sharing anonymized data about people's movements through mapping software." It identified congested areas so people could avoid crowds to reduce the spread of COVID‑19.
Prediction of severity. Other

researchers

used AI to predict the course of the illness in an infected person. One used machine learning to predict mortality risk, while another AI software predicted (with 80% accuracy) which patients would develop severe respiratory distress due to COVID‑19.
Identifying a cure or vaccine
With AI technology, pharmaceutical companies were able to scan their existing database of approved medicines much more quickly than human staff members could. This had the potential to speed up the search for a cure or vaccine.
As of this blog, we're still in the middle of vaccine rollouts. It's hard to confirm whether AI was directly used in the course of developing the Pfizer, Moderna, or Astro‑Zeneca vaccines. But we do know this: artificial intelligence and machine learning are used in research every day. It's what helps researchers find accurate information quickly.
"AI is a powerful catalyst… to draw insights," Suchi Saria, professor at the Johns Hopkins Whiting School of Engineering, told IEEE Spectrum in an article about vaccine development in September 2020.
Communications Technology and the Pandemic
Outside the realm of healthcare, AI has still helped organizations and businesses fight against COVID‑19. Essential worker communications technology has been incredibly helpful for containing the spread in the general public.
Here are three ways communications AI has protected people and businesses:
Facial mask recognition

.

Video surveillance systems

equipped with this technology use AI‑enabled analytics to identify human faces, determine whether the subject is wearing a mask, and then create an alert when someone is unmasked.
Temperature checking. Detecting elevated temperatures is one way to determine whether or not an employee or customer is sick. Companies like Motorola Solutions have used AI to develop

security‑grade heat‑sensing cameras

that screen for individuals with elevated skin temperatures.
Social distancing technology. Businesses can proactively protect people with powerful video analytics to determine the proximity of one person to another person.
The Future of AI
The pandemic changed many industries forever. From work‑from‑home arrangement to contactless services and shopping pickup/delivery options, many of these changes will remain in place even after the pandemic is gone.
Artificial intelligence will continue to grow and change too. It has applications for nearly every industry. Using AI in your existing equipment and processes could help boost safety and efficiency, as well as open doors to new innovations down the road.