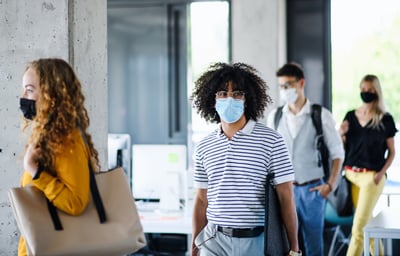 When it comes to stopping the spread of COVID‑19, advice from health experts is clear: Wash your hands. Practice social distancing. Wear a mask.
Of these three recommendations, the easiest to enforce is face masks. That's why governments around the world, from international leaders to local mayors, have implemented mask mandates. For instance, the Illinois Department of Health states that anyone over two years of age must wear a covering over their nose and mouth in public places.
The Challenge
Businesses must ensure that all staff and patrons are abiding by face mask protection protocols, where applicable. Unfortunately, noncompliance is a problem. Even more unfortunately, identifying and addressing noncompliance is often left up to the employees of businesses, hospitals, and schools.
So what can your organization do to stop the spread inside your building? What technology can you use to detect whether people are using face masks?
Below, we offer an overview of current face mask detection technology and how it could benefit your facility.
A Solution: Face Mask Detection
Face‑scanning technology is nothing new. Apple's Face ID leverages facial recognition so that users can securely unlock their iPhones and iPads. And facial recognition took off in airport security lines last year.
What's different about face mask detection is its purpose, of course. While facial recognition offers individual security, video surveillance systems equipped with face mask detection can be used to keep the community safe and to promote safety through essential worker communications.
How Face Mask Detection Works
Certain video surveillance systems (such as Motorola's Avigilon Solutions) can easily be paired with artificial intelligence (AI) software such as Motorola Avigilon's Solutions' No Face Mask Detection.
To help prevent community transmission of COVID‑19, this advanced video‑based detection technology leverages AI‑enabled analytics to rapidly complete the following steps:
Accurately detect objects in the camera's field of view
Classify the objects as humans (or not)
Determine whether the subject is not wearing a face mask.
When the analytics detects an individual is in violation, this prompts an automated alert and is added to optional cloud‑based reports that give you an overall picture of mask compliance within your facility.
Face mask detection allows organization leaders and security personnel to identify and address unmasked individuals
Quickly
Objectively
With proof
In late June, Forbes reported on emerging face mask detection technologies. In the article, Mahesh Saptharishi, CTO of Motorola Solutions, suggested that face mask detection technology allows staff members to address non‑compliant individuals discreetly. This is key to maintaining good rapport in any industry, whether you're redirecting patients, students, customers, or visitors.
Boosting Safety in Your Work Environment
As we head into the winter months, more employees and customers (or patients, visitors, or students) will be spending time indoors. Social distancing is increasingly challenging. Sometimes it is impossible to maintain six feet of distance between people in a workplace. However, you can ensure that the people inside your facility are wearing their masks—and wearing them properly.
Using your existing surveillance cameras in new ways—often by installing a new software tool—can help you keep your staff and community safe. The objective nature of the technology also allows you to swiftly and equitably address noncompliance with face mask mandates.