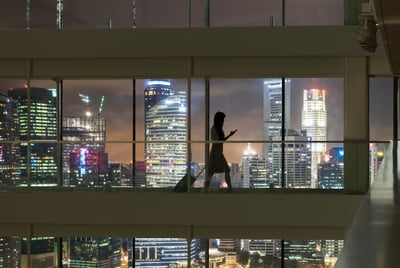 Professionals in the hospitality industry know that providing superior guest service requires more than fresh sheets and late checkouts. Guests expect privacy surrounding their stays, and hospitality laws require that hotels protect guests' safety and avoid negligence, which includes safeguarding their identifying information.
Here we look at ways improved communications can improve hotel guest confidentiality and make your guests feel safe and welcomed.
Greater surveillance
One communications tool people don't readily think of is commercial video surveillance. This may seem counterintuitive to maintaining confidentiality of guests, but monitoring video activity can give your guests a greater sense of security, knowing there is a system for learning who and what is around them. Video monitoring is easy to set up, and it can provide 24-hour coverage of key areas where your guests' security can be compromised. There are also options for small systems for single sites up to sophisticated networks to cover multiple facilities.
Greater service
Another strategy for ensuring safety is to give hospitality workers the tools to better communicate. Often, hotel staff use multiple independent tools such as cell phones, pagers, WiFi phones, paper work tickets and email. Much of this communication involves guest requests, service availability and the need for discretion. And these modes of communicating can be disjointed, fragmented, or unreliable.
Two-way radios, on the other hand, provide a reliable, effective form of communications over cell phones and landlines. Two-way radios provide for immediate connection with push-to-talk features and crystal clear audio.
Further, two-way radios can enhance security that is vital to hotel guest confidentiality. Two-way radios can be connected across departments, allowing for one-to-many broadcasts and the ability to send alarms about emergencies or security breaches. Responses can be streamlined and coordinated among multiple parties in less time that could be achieved with individual phone calls. In addition, radios are secured and hack-proof, which is why they're the modem of choice for fire, policy and military. Learn more about improving interdepartmental communication with two-way radios.
Greater amenities
Improved communications also involve providing fast and reliable hotel WiFi for your guests. This is no longer an optional amenity. Research shows that up to 91% of prospective hotel guests made booking decisions based on whether the hotel offers free WiFi.
Installing or upgrading to hotel-wide WiFi can be a simple improvement. In doing so, experts say it's imperative to provide sufficient access points. There needs to be enough of them to cover your property and they need to placed properly to sustain high-bandwidth applications.
For your hotel guests' confidentiality, the WiFi also has to be secure.
Greater protection
Quality communications is also essential when it comes to securing your data and devices. The systems used in hospitality collect a large amount of personal data on guests and visitors. Employees may store sensitive data on their company mobile devices. Or your hotel may have a Bring Your Own Device (BYOD) policy, which allows data to be further jeopardized by being stored on non-company cell phones or tablets. To protect hotel guest confidentiality, mobile device data should be encrypted. And if you have a BYOD policy, make sure to maintain an full inventory of all devices that can access protected information. It's also important to include in your BYOD policy requirements the ability to wipe devices of all data remotely if they're lost or misplaced.
Enhanced communications from video cameras, two-way radios, and proper security for mobile devices can go a long way to improving your guests' experience and ensuring hotel guest confidentiality. And properties with high guest satisfaction are apt to get more return visits and favorable reviews. To learn more about how technology can benefit your operations, download our free Wireless Survival Guide.