A recent Cornell University survey has confirmed what you probably already know about your ever-more-connected customers: Hotel guests want to use their mobile devices in more ways than are currently available, so the demands on hotel wireless are greater than ever.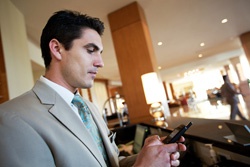 The survey, which is detailed in a report aptly named "

The Mobile Revolution Is Here: Are You Ready?

", was conducted by the School of Hotel Administration's Center for Hospitality Research. Researchers asked more than 750 smartphone owners about how they currently use their mobile devices when they travel and how they would use them if they had the choice.
Guests of all ages said they want to use their devices for almost everything you can imagine, from checking in to ordering room service. Some of the world's largest hotel chains are already responding with wireless transformations.
As we've said before, putting your hotel wireless on the fast track opens up a world of possibilities for improving guest satisfaction.
Here are 3 of the top ways that hotel wireless is evolving:
Both Starwood and Hilton have piloted programs that allow guests at participating properties to check in and unlock their rooms through a mobile app and Bluetooth. The Hilton app also allows guests to choose their rooms themselves. Guests using the app receive a notification when their room is ready and the option to select SPG Keyless or Hilton's Digital Key.
SMS communication
In December 2014, the Hyatt Regency Bellevue in Seattle became the first hotel to launch a system that connect guests and staff through SMS text messaging, digital signage and interactive touch tables in the lobby using a single platform. Through Connect CMS, guests can receive push notifications about their rooms, text with staff about requests for service and reservations, and access the information on digital signs, such as flight details and restaurant recommendations, from their mobile devices. The property's director of rooms has estimated the system immediately saved $20,000 in expenses.
Minibar sensors
Sensor-enabled minibars allow hotels to know instantly when an item has been removed from a room minibar and for how long. If the item isn't replaced after a preset period of time, say 60 seconds that allow for a curious guest to look at the nutritional content of something, then the item is charged to the room. Charges are verified during daily checks by cleaning staff.
To work with a communications partner who has improved wireless performance in facilities like yours, contact Chicago Communications today!