Chicago Communications, LLC sponsors many different types of events throughout the year. We sponsor runs, festivals, trade show venues, picnics, and believe it or not, snowmobile racing. Yes, snowmobile racing, also known as Snocross.
What is Snocross? Snocross is a sport involving racing specialized high performance snowmobiles on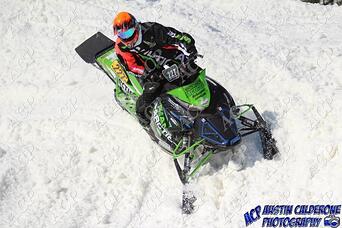 natural or artificially-made tracks consisting of tight turns, banked corners, steep jumps and obstacles. Riders race at speeds of up to 60 miles per hour. Now you might be wondering ….. do they actually race in Illinois? While there are tracks all over the country – New York, South Dakota, North Dakota, Minnesota, and Michigan -- the southern-most snocross track in the country is, yes, located in Illinois – Wauconda, Illinois to be exact. Races take place pretty much every weekend from December to March, and as you might expect to coordinate practices and race days takes a village. It also requires two-way radios.
For the past six years, Chicago Communications has provided two-way radios to the Great Lakes Snocross (GLX) organization for their race season. Every year, these radios have worked without fail, even under extreme conditions and with the rough handling the equipment experiences in the course of a typical race day. Who uses the equipment? The track workers who monitor the racers to ensure racers are following the rules, and who also signal when crashes occur. There are also always First Responders on site. They too are linked into the radio system so they can be immediately notified when help is needed on the track. And last but not least, the Starter, the Tower Crew, and the Race Director also use the radios so they can communicate back and forth to the track workers as needed. Race Day truly couldn't happen without two-way radios!
Also, since Chicago Communications provides radios to the GLX organization, many of the racers there proudly display our company name on their sleds. Many of these sleds travel to races all over the country so it's always nice to see our name travel with them.
As the snocross race season is upon us, we are busy preparing the radios and equipment for the GLX race organization again. If you are looking for something fun to do one weekend, come check out a race and see for yourself this exciting sport and watch how the radios are constantly being used during the event. It's a pretty awesome sight.
And have you ever wondered what it would be like to race in one of these races? Check out this helmet-cam video of one of the professional snocross racers on the track last season.
It's definitely not a sport for the faint of heart!

This article was written by one of Chicago Communication's Principals, Cindy Glashagel. Cindy has over 27 years of experience in the industry. She held many positions during her tenure at Motorola, beginning with Systems Engineer and other various customer service, quality & operations management, and HR positions before resigning to start Chicago Communications, LLC. If you have any questions for Cindy, or another representative at ChiComm, please contact us.