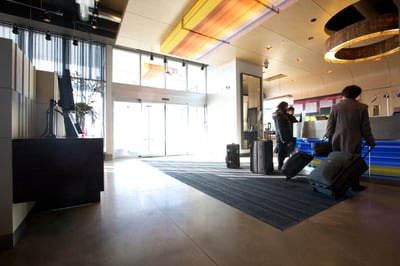 It's a question posed by professionals in every industry, from education to healthcare, who are charged with ensuring the safety of people and the security of a facility. How can video surveillance cameras help? And how do you set up the best system to meet your safety and security goals? Here, we explore the capabilities of video surveillance and how to best implement the right system for your facility.
The Power of Video Surveillance Cameras
Today's video cameras are sleek, discrete, and capable of not only capturing events as they occur, but also providing lasting footage that can be used from everything to staff training to court evidence. Cameras are also not just stand‑alone pieces, but part of an overall video surveillance system of video management systems and video signal distribution systems. With this equipment, properly installed, users can better detect suspicious activities, verify that events are happening as expected with no interruptions, and gather data to act on events to prevent negative outcomes. Based on this, video surveillance cameras are integral to an organization's efforts to keep people and facilities protected.
Safety and Security
The benefits of video surveillance cameras span across people and property. For example, in education, they can be used on buses to capture activities and deter bad behavior. In manufacturing facilities, they can be used to monitor the plant floor and ensure quality control. In hospitality, video surveillance cameras can capture activity in the lobbies or on hotel floors, providing guests an extra peace of mind. In almost every situation, just the presence of cameras can prevent break‑ins, vandalism and other costly damage. They can also be the eyes and ears of management, monitoring critical areas when staff cannot. Further, when it comes to people's safety, security officers can use cameras to ensure employees reach their cars safely. They can record instances of abuse or harassment, and they can capture and record traffic in and out of the facility.
What to Look For
There's no dispute the value of video surveillance cameras is unsurpassed. When you're ready to incorporate them into your frontline defense, there are important things to consider.
Setup and features. Today's options for cameras are vast, and it can be overwhelming to know just what you can do with the technology. Multiple camera angles, sound, event-triggered recordings, motion detection, and end‑to‑end surveillance are just a few things to consider. Are you positioned to capture footage inside and outside the building, and are both systems designed for the environments they'll be in—darkness, cold, heat, and so on. A free consultation can help you determine your needs and create and implement a solution.
Scalability. Once you arrive at a solution, consider its expandability. Will you be able to add technology to meet growing demands in space, staff, and guests? A quality system will be one that grows with you, so you're not having to reinvent the solution in a year, or five years, or 10 years. You should be able to add new cameras, encoders and recorders as demands increase so that you are always providing a safe and secure environment.
Video management and analytics. Another component to consider are the back‑end tools of video surveillance cameras. Can users monitor activity remotely? Can footage be easily stored and searched? And can that footage be analyzed in real time and after the event? Today's surveillance systems have deep‑learning algorithms and detection features that make the cameras more intuitive and powerful.
With the right video surveillance cameras, your business can go far in keeping people safe and your facilities and properties secure. To learn more, contact us for a free consultation on how you can best gain critical visibility into key events.