For as long as I can remember, and it's probably from growing up with a dad who has been in the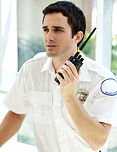 radio communications business for the past 60 years, I always find myself looking for how businesses, organizations, or volunteers are communicating when I'm out and about. I used to see him do it and now I do it. It has become a force of habit for me now. Are the people in the places I go using radios? (And I of course also look to see if they are Motorola radios.) How are they using them?
What is interesting though, if you've ever done this yourself, is that radio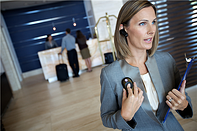 communications are EVERYWHERE! They really are. You see them in buses and limousines, on the staff at the airport, on the staff at stores, on the organizers and volunteers working events, on the staff at concerts, on the staff at hotels, on the staff at restaurants, on teachers and administrators in schools, on security personnel, and the list goes on and on. If you then ask one of the individuals you see using the radio what they think of it, you will get the same response every time......."I couldn't do my job without it."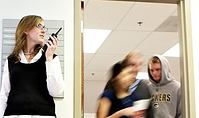 Why is this? It's because radio communication is the quickest, most efficient; most reliable means of communication one-on-one, to specific groups, and group-wide. It just makes sense! And with the capabilities radios have today, there's so much more they can do.
So, the next time you are out and about see where you can spot all of the radios being used. You too will find that they are literally EVERYWHERE!

This article was written by one of Chicago Communication's Principals, Cindy Glashagel. Cindy has over 27 years of experience in the industry. She held many positions during her tenure at Motorola, beginning with Systems Engineer and other various customer service, quality & operations management, and HR positions before resigning to start Chicago Communications, LLC. If you have any questions for Cindy, or another representative at ChiComm, please contact us.