In today's Healthcare market, more and more hospitals are being absorbed by larger corporations. Since this trend has been picking up speed, radio systems which have typically been used for a multitude of uses (Security, Maintenance, IT and Janitorial services) are now creating disparate communications between facilities.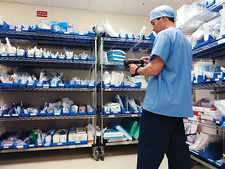 At Chicago Communications, we had a similar situation with a customer that had 3 sites of hospitals spread across a 3 town radius. The main site had five multi-story buildings with two parking garages and two problems: (1) They wanted to tie the sites together and (2) they needed to improve coverage. The hospitals were using analog radios and had several areas across campus that had poor to zero coverage.
The first solution: MotoTRBO Digital two way radios with IP site connect capabilities.
We addressed their coverage issue by implementing a Digital Mobile Radio system (DMR). By leveraging a DMR, Hospitals can use their current Wide Area Networks (WANs) to create larger communications systems. This system will allow applications such as a Central Dispatch for Security services, Shared Maintenance, BioMed and IT resources between facilities, while still using a common communications platform.
In our scenario, the customer initially purchased a new digital two way radio system at one facility. This single radio repeater allowed for two separate radio channels which reduced cost (in terms of radio infrastructure purchases), yet allowed for enhanced capacity. With two additional purchases, two more buildings were tied to the existing radio system through current hospital networks (WANs). With IP site connect a hospital can achieve on site local communications at each site, while still allowing a wide area radio system for Security, plus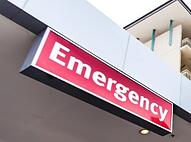 the ability to do an emergency alert between users.
In a healthcare environment radio users typically fall into 4 groups, each with their own set of needs:
Security: Radios are used by security personnel to communicate between different properties in both emergency and non-emergency situations and to establish a high level of safety for the patients in the hospital/facilities.
Maintenance: The maintenance staff uses the radios for day to day protocol and for building operational purposes, such as addressing and completing routine repairs.
Nursing: Nurses use the radios for voice only to communicate during disaster training, between nursing stations throughout the hospital, and to reach the emergency room when needed.
Supervisors: By configuring the IP site connect feature, the hospital is able to dispatch security services between all locations while overseeing Maintenance and scheduling work at each facility.
With MOTOTRBO, a radio system has a designated all call channel option, made available for all users to be able to talk to each other in the case of emergencies.
The second solution: After doing testing in all the buildings, it was determined a Bi Directional Amplifier (BDA) would enhance the areas where coverage still needed to be better.
Building materials such as concrete, rebar, tin, drywall, ceilings and wood all have some ability to either absorb or reflect radio signals. This holds true whether you are working with a consumer grade AM/FM radio or a Cellular telephone. Materials create loss in radio signals which translate to the inability to receive or transmit.
Bi-Directional Amplifiers have become common place in increasing both the ability to transmit and the ability to receive radio signals to and from a device. BDA's as they are referred to, can amplify radio signals in all bands, into and out of buildings, tunnels, vaults and parking structures just to name a few. By sampling the radio signal, running it through a filter to clean it up and then amplifying it, the BDA enhanced radio coverage to places that were unreachable before.
This was a customized solution designed by a team at Chicago Communications for a particular customer with particular circumstances. We realize that your situation may be similar or different to the scenario mentioned. That's why systems are be built to fit the needs of the users. Beyond what has already been discussed, additional MOTOTRBO applications can:
1) Add capacity to the number of users
2) Add software applications for work order management
3) Add GPS abilities to track the mobile security teams
4) Add remote alarming capabilities in terms of equipment failures from Facilities Maintenance and Bio-Med
So what you've learned today is that by purchasing the MOTOTRBO system, users are getting basic voice communications AND the ability to enhance the system with GPS, Man Down, Telephone Interconnect, Text Messaging and additional applications that the digital platform lends itself to. The list of capabilities goes on and on, depending on what kind of needs users have. Have you experienced an issue similar to what was described in this article? Do you have questions about how the technology works? Leave a question/comment in below and we'd be happy to get back with you!
Engage Chicago Communications to assist you in putting together a solution that will meet your current and future communications needs. We understand that every customer and situation may be different and we take the time to find what works best for you. Chicago Communications is an authorized Motorola Solutions two way radio dealer that also specializes in BDA, DAS and many over communication solutions.
This article was written by Tom Treichler (Director of Sales & Service) and by Jill McNamara, Internet Marketing Coordinator at Chicago Communications.