No part of the hotel and resort experience is immune from today's fast-moving hospitality technology trends, and that includes connectivity in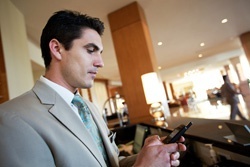 lobbies and lounges.
No longer is the lobby a pass-through point or the lounge a place just for breakfast and happy hour. Business travelers, in particular, want connected communal public workspaces where they can hold informal meetings, socialize with their smartphones and finish up the day's work.
So let's take a look the hospitality technology trend of connected lobbies and lounges.
Lightning-Fast WiFi
Designing functional lobbies and lounges that are extensions of offices isn't just about reconfiguring furniture, it's about having the wireless speed and capacity to keep up with the increased demand of so many devices.
The right wireless solution will accommodate current use and allow for scaling up. Working with an experienced provider and installer can help you make choices such as cabling media, power sources, architecture and design.
Your wireless partner can also determine how many access points you need and where they should be placed, for now and into the future.
Moving In-room Amenities Outside
Having speedy and reliable WiFi in public spaces opens another world of possibilities for bringing in-room amenities, such as room service, to connected consumers no matter where they are onsite.
Location tracking paired with a robust mobile app allows guests to have food delivered, book spa appointments or make requests about their rooms from the comfort of the lobby or lounge.
Leaving the Competition Behind
Increasing competition in the hospitality business makes every differentiation point even more important, and being able to show off a remodeled tech lounge is a step in the right direction.
Hospitality technology advances are driving changes across hospitality management, and it's no longer just the job of the IT department to make sure the WiFi is fast and guests' wireless experience is seamless.
To meet your needs for communications solutions in the hospitality industry, contact Chicago Communications today!