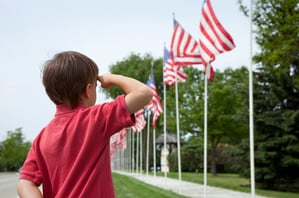 Memorial Day is upon us! While this weekend marks a time of beautiful weather, backyard football, delicious food, and time with loved ones, it also serves as a reminder of the tremendous men and women who have served, and continue to serve, our country.
While we typically enjoy educating you all on radio communications, we wanted to use this platform as an opportunity to share some interesting facts about the start-of-summer holiday, and take time to acknowledge the courageous members of the military in our lives.
Before that, here are some interesting things about Memorial Day that you may not know!
It was originally called Decoration Day
It's hard to imagine Memorial Day as anything but, however it was originally named Decoration Day in tribute to fallen soldiers. The day got its original name because soldiers would often decorate the graves of their fallen comrades with flags and flowers. Decoration Day became Memorial Day in the 1880s and became an official holiday in 1967.
There are 24 cities who claim to be the birthplace of Memorial Day
Officially, thanks to President Lyndon B. Johnson, the birthplace is Waterloo, NY. However, this is much debated and 23 other cities lay claim to the title of the "Birthplace of Memorial Day." Regardless of where it was started, it is clear that Memorial Day was started by General John Logan as a means of remembering the fallen in the Civil War.
It is one of the most traveled weekends of the year
OK, you could probably guess this one. As the official summer kickoff, millions of people take to the air and highways armed with a three or four-day weekend. Last year, nearly 40 million people traveled at least 50 miles, according to AAA.
It is legally required to observe a National Moment of Remembrance
Although most people are distracted by hotdogs, softball, or just beautiful weather, it is actually legally required that Americans pause at 3:00pm local time on Monday to observe a moment of silence and remembrance for fallen soldiers.
You could probably go on and on with interesting facts about Memorial Day, but the most important fact is this: we have the freedom to celebrate this weekend due to the courage of countless men and women who fought for this country.
To the members of the military here at Chicago Communications, we sincerely thank you. To the members of the military who work for our customers, we thank you as well. As you all go and celebrate this weekend, we encourage you to take the time to remember those who made this day and weekend possible and thank those military members that you see.