10 Tips from the FREQ SQUAD for a Safe Halloween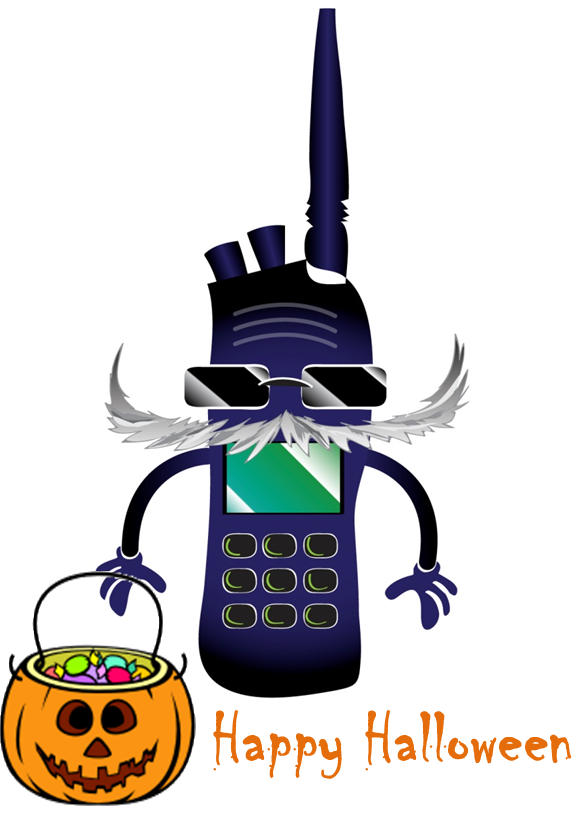 Cross the street at corners, using traffic signals and crosswalks.

Decorate costumes and bags with reflective tape or stickers.

Have kids carry glow sticks or flashlights to help them see and be seen by drivers.

Always make sure children are accompanied by an adult.

Stick to trick-or-treating in well-lit homes in familiar neighborhoods.

Choose face paint and makeup whenever possible instead of masks, which can obstruct a child's vision.

Remind your children not to eat any treats before an adult has examined them carefully.

Keep candles and jack-o-lanterns away from landings and doorsteps where costumes could brush against the flame.

Choose a costume that is made of flame-resistant material.

Wear well-fitting costumes and shoes to avoid trips and falls.
This has been another message from a member of ChiComm's FREQ Squad
Tommy Two Way is another member of the FREQ Squad! Tommy's been around the block and back. He's a techy old timer who's been active since the beginning of two way radio. He thinks he's pretty smart, often saying, "I don't just talk the talk, I can walk the walk."--using his mustache as an indication of his many years of wisdom. We urge you to try and stump him with technical questions!
Have No Fear, The FREQ Squad Is Here!


If you haven't already heard, the FREQ ("Freek") Squad are now part of ChiComm's team. They'll be popping in every now and then on the blog to give you helpful hints and tell you about the latest happenings for all things 'freq-y & geeky'. They'll be sharing valuable information related to two-way communications equipment & accessories, important announcements about products, promotions, regulations and answers to frequently asked questions. For bio's on each member click here. They also have their own twitter handle:@ccFREQsquad