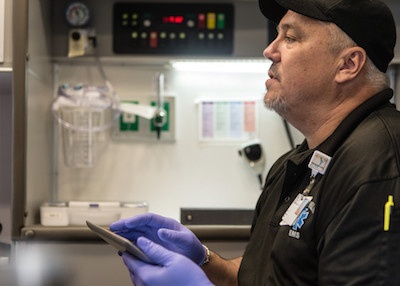 The U.S. Centers for Medicare & Medicaid Services (CMS) have issued comprehensive new guidance on the emergency preparedness rule for providers and suppliers that recently took effect.
The guidance from the Quality, Safety & Oversight Group includes the four core elements of emergency preparedness, templates and checklists, as well as details on preparing for specific events such as earthquakes, hurricanes, flooding, influenza and homeland security threats.
With an eye toward expecting – and preparing for – the unexpected, here's a quick overview of the new guidance on the emergency preparedness rule for Medicare and Medicaid providers and suppliers.
History
The emergency preparedness rule went into effect on Nov.16, 2016, and health care providers and suppliers were to comply and implement all regulations one year later, on Nov. 15, 2017.
The stated purpose of the rule is "to establish national emergency preparedness requirements to ensure adequate planning for both natural and man-made disasters, and coordination with federal, state, tribal, regional and local emergency preparedness systems."
The requirements apply to all 17 provider and supplier types, which have to be in compliance with Emergency Preparedness regulations in order to participate in the Medicare or Medicaid program.
Core Elements of Emergency Preparedness
The four core elements of emergency preparedness apply to all provider types, with some variation based on inpatient versus outpatient, long-term care versus non long-term care.
According to the CMS guidance, the elements are:
Risk Assessment and Emergency Planning

Communication Plan

Policies and Procedures

Training and Testing
Communication and communications planning are key themes across the four elements. Facilities are expected to be ready for communications interruptions, including cyber attacks, and to have coordination in place both internally and with external public health and emergency management agencies.
Phases of Health Care Provider Emergency Management
On its emergency preparedness page for health care provider guidance, CMS is clear: "A coordinated response is essential."
Officials say a comprehensive emergency management includes the following phases:
Hazard identification, including both direct and indirect hazards that may affect the community at large but not the facility specifically.
Hazard mitigation processes that incorporate pre- and post-emergency processes for both residents and staff.
Preparedness includes having a plan for meeting the needs of patients and residents if essential services break down.
Response includes activities immediately before, during and after an emergency.
Recovery, includes the steps during and after the response that are designed to return the facility to its usual state or a "new normal."
Emergency Preparedness Templates & Checklists
The CMS guidance includes resources developed with input from the Survey & Certification Emergency Preparedness Stakeholder Communication Forum.
The templates and checklists include public health emergency declarations, emergency preparedness tools and training, FAQs, promising practices, pandemic flu information and a 45-page acronym and glossary list.
Ensuring a Coordinated Response
Being adequately prepared to respond to emergencies, natural and manmade disasters isn't just one department, agency or organization's job, and CMS' emergency preparedness rule stresses the importance of coordination.
Facilities are tasked with coordinating with local and state public safety and public health agencies, as well as preparing their staffs, patients, residents and their loved ones for what to do before, during and after a large-scale event.
The new guidance will be updated to answer questions from providers and suppliers and best meet their needs to keep everyone safe.