There are always new studies emerging to answer the question, what is good customer service? Even if you've got a strong background in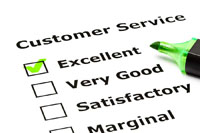 customer service, there are likely some findings that will surprise you. To build on your base of knowledge, here are seven key findings from studies about customer service that you should read.
People Will Pay Extra for Personalization
In a study published in the Journal of Applied Social Psychology, researchers tested whether diners would tip their servers more if they were given mints after a meal.
For the first group, servers delivered mints along with the check and didn't mention them at all. They received around three percent more in tips than the control group where no mints were given.
In the second group, servers brought two mints by hand separately from the check and mentioned them to diners, saying something along the lines of, "Would anyone like some mints before they leave?" Their tips were 14 percent higher than the control group.
In the last group, servers brought a round of mints with the check, then came back with a second set a short time later, letting the diners know that they'd brought more in case they needed them. This perceived personalization – having customers feel that the server was checking back in to fulfill their needs – earned the server 23 percent more in tips.
Customers Like Loyalty Programs That Give Them a Head Start
Researchers in a study called The Endowed Progress Effect: How Artificial Advancement Increases Effort created two separate car wash loyalty programs. In both programs, customers got a free stamp after each paid car wash. The first version required eight stamps to earn a free car wash. The second version required 10 stamps, but customers automatically got two stamps just for joining the program.
The results: the second program outperformed the first by almost double, with 34 percent completing the program compared to 19 percent.
Hearing Bad News First Makes Customers Feel Better But Less Likely to Act
In a 2013 study, researchers at the University of California at Riverside tested the age-old question: Do you want the good news first, or the bad news?
Customers in the study who heard bad news first said they felt better about the news, but those who heard the bad news last were more motivated to act to do something about it.
Friendliness Outpaces Speed…
Gallup surveyed bank customers about how engaged they felt after interacting with bank staff. Customers who said they felt the service was speedy were six times more likely to be highly engaged, while customers who felt the teller was courteous and willing to help were nine times more likely to be fully engaged.
Author William J. McEwen, who works for Gallup, writes about companies' often misguided obsession with speed in this excerpt from his book "Married to the Brand."
…Except on Social Media, Where Speed is Key
A survey by The Social Habit found that 32 percent of customers who issue a complaint on social media expect a response from the company within 30 minutes, and 42 percent expect a response within 60 minutes.
Less Work for Customers = More Customer Loyalty
A 2007 survey by the Customer Contact Council found that the one factor that's most important to increasing customer loyalty is to reduce the amount of work a customer has to do in order to get their problem resolved.
The survey results suggests that too often, companies expect customers to jump through hoops to resolve an issue – like making another call or filling out a form – when they should do more to have the customer do less.
Bad Service Leads to More Goodbyes
The 2010 Customer Experience Report by RightNow found that the leading reason customers have stopped doing business with a company is a bad customer service experience. In fact, 82 percent of people say they've taken their business elsewhere after a bad experience.
There is some good news, though: good customer service experiences can help businesses grow because happy customers tell, on average, nine people about their positive experience. Yet another reason to hone those great customer service skills.
To get the communications technology your staff needs to provide excellent customer service, contact Chicago Communications today!