As your boss keeps reminding you, it's your job to make sure wireless communication at your company, campus or property is something that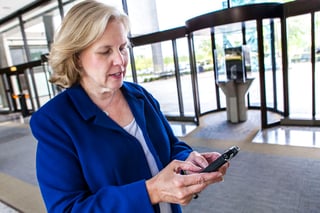 no one is talking about because all is well: You're effectively using communications to enhance safety and security, you don't need to improve wireless communications with a stronger network and dead zones are a dead issue.
But if your communications are still a topic of conversation, there are solutions available.
Here are four things your boss wishes you knew:
How to Improve Wireless Communications and Security
Businesses, campuses and facilities are perhaps never safer than they are after an incident has occurred. Security measures are stepped up and officials seek out better ways to keep in touch and prevent another event. But imagine being able to improve communications and security with a smart solution such as two-way radios before something happens so that you're ready or better positioned for prevention.
Reliability and immediacy are just two of the reasons why two-way radios are better than cell phones, not just during emergencies but for everyday use. If you're not ready to outfit your whole team with radios, there are apps and other technology available that can connect radios via push-to-talk (PTT) with cell phones, tablets, computers and tablets.
The Best Way to Optimize Your Wireless Network
It doesn't matter if you're a hotel or a hospital, visitors, staff and public safety officials expect lightning-fast wireless connections for their cell phones, laptops and Wi-Fi radios. If your wireless network is sluggish or spotty, consider calling in a technician to diagnose what's going wrong and the best way to solve it.
What Equipment Will Banish Dead Zones
No doubt your boss has noticed all of those people clustered near the windows to try and get better cell phone reception or who take calls outside to keep them from dropping.
You don't have to live with dead zones, and it may be time to purchase or tweak your bi-directional amplifier, or BDA, solution. BDAs boost the effectiveness of your cell and two-way radio coverage and get rid of "dead zones."
If you currently have a BDA solution but users are still experiencing connectivity issues, it's time for an assessment. An experienced technician can help you determine, among other things, whether key parts of your system are strategically placed for the best output.
Strategies for Maximizing Your Equipment Investment
Your company or campus may have the best communication equipment and solutions, but if staff don't know how to use or maintain them, you aren't getting the most out of your investment. And you may be endangering people who are relying on devices they don't know how to use properly or that aren't in working order.
New and existing staff should be fully trained on any wireless communications equipment that you buy, and they should know how to follow the recommended maintenance schedule. A full-service equipment dealer will have technicians on staff who can help your staff solve and prevent performance issues both when you buy and in the long term.
To meet your needs for state-of-the-art wireless communications technology, contact Chicago Communications.