Rapid advances in tech continue to impact nearly every aspect of our lives, and school technology is no different.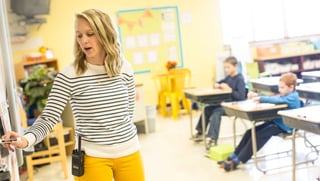 Innovation for new and existing technology in schools is affecting not only how we think about things like school safety, school bus safety and campus communication, but how students and teachers interact in the learning environment as well.
To dig a little deeper, let's look at just one example of the future of school technology through so-called "flipped" classrooms.
What is a 'Flipped' Classroom?
The "flipped" classroom approach has become increasingly popular in K-12, and even higher education, during the last decade or so.
In a "flipped" classroom environment, students first receive instructional content outside of class, through reading or online video lectures. They then spend their time at school engaging in interactive activities, such as problem-solving exercises, discussions or debates.
The Case for Connectivity
The new model allows teachers to bring school technology and digital material into the classroom in different ways. They can adjust to students' needs in real time and pick up on patterns of understanding in the way students respond to the work they do at home.
Such a reliance on real-time technology and analytics in the classroom requires strong and reliable school WiFi and a commitment to making sure every student – and teacher – has the tools they need.
When it comes to WiFi, schools have been exploring wireless broadband technologies, mesh solutions, point-to-point and point-to-multipoint that ensure classrooms have access to the best available connectivity.
As for the other tools required, they include:
Personal computing devices such as notebooks, desktop computers and tablets

Streaming video capabilities

Learning management systems (LMS)
Prepare for Tomorrow Today
As flipped classrooms grow in popularity and sophistication, the need for even better school technology will also continue to increase.
Forward-looking administrators and districts can prepare for the demands of tomorrow today by investing in tailored WiFi solutions and personal devices that will stand the test of time.
To get a free estimate on the best communications solution for your school or school district, contact Chicago Communications.