AT&T recently launched a first-of-its-kind trial program that uses fixed wireless broadband networks and millimeter wave technology to bring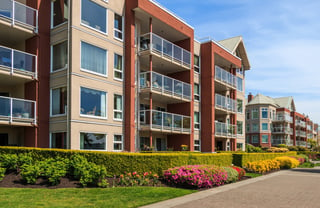 high-speed internet, cable and wireless services to a set of apartment complexes in Minneapolis.

The trial uses point-to-point millimeter wave wireless technology and a combination of wireless signals and in-building wiring to deliver an "ultra-fast" 100 megabits-per-second connection that is accessible to each apartment unit in the complexes, according to AT&T.

Residents in the trial program also have access to cable television through DIRECTV Advantage -- without having to install satellite dishes on their balconies. DIRECTV Advantage uses a single satellite dish on one building to send a video signal to a central distribution system for the entire property.

AT&T hasn't said how many apartment complexes or individual apartments are involved in the trial, but in a statement about the program, a spokesman laid out the size of its potential reach.

"This will make it possible for us to potentially deliver an internet connection to more locations where we have not previously been able to offer a home internet connection," said Ed Balcerzak, senior vice president of Commercial and Connected Communities at AT&T. "If successful, this will give us the ability to offer a combination of internet, DIRECTV and wireless services to apartment complexes and multifamily communities in additional metro areas."

AT&T says it's already eyeing Boston, Denver, New Jersey, New York City, Philadelphia, Phoenix, Seattle and Washington, D.C. for the program.
How it Works
AT&T says it's using millimeter wave wireless technology to send a signal from a central building that's connected to fiber over to neighboring properties, which have small radio/antenna systems placed on their roofs. From there, each apartment unit is connected with wiring inside the building.
Residents who sign up for the program can plug their Wi-Fi routers into existing wall outlets to get internet service in their apartments.
Fixed wireless broadband networks operate by connecting "fixed" locations - such as two buildings or a building to a tower – with a wireless or radio link that enables data communications between the sites.
The Need for Speed
According to AT&T, the millimeter wave technology offers a signal with high enough capacity to allow a neighboring building's infrastructure to connect to speeds of several gigabits per second "at a fraction of the time and cost typically associated" with making such service available.
The company says it plans to make even faster speeds available to the trial properties through the fixed-wireless solution, likely up to 500 megabits per second.
Much of the buzz around millimeter wave technology, of course, is its potential to deliver what AT&T calls "ultra-fast" internet speeds without the cost of laying fiber and with less energy expended.
That makes the technology an exciting addition to the suite of wireless communication solutions that are currently solving the biggest problems in wireless communication.
By the Numbers
Currently, AT&T has:
6 million internet connections in service
approximately 45.5 million video connections through DIRECTV & U-verse
8 million AT&T wireless customers in the U.S. and Mexico.
To meet your needs for state-of-the-art wireless communications technology, contact Chicago Communications today!