Whether you're considering upgrading your facility management software or investing in it for the first time, it can be daunting to start researching software options. As with any technology investment, it's crucial to have the right information so that the choice you make results in increased efficiency and profitability.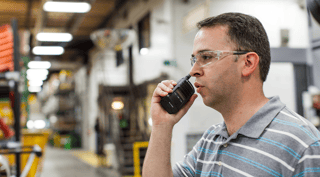 As you're researching your facility management software options, there are a few key considerations to keep in mind:
Full suite of features and functionality
One of the main strengths of facility management software is the ability to merge multiple disparate systems into one comprehensive solution. Ensure that the software you choose integrates as many functions as possible, from maintenance planning to tracking assets and vehicles. Integrating multiple systems into one central hub will also offer a comprehensive view across your entire facilities portfolio, whether you're in charge of a single church, a multi-site campus or a busy airport.
Integration with your radio solution
Chosen and configured correctly, your facility management software can and should integrate with your MotoTrbo two-way radios to provide work order management, alarm management, personnel tracking, fleet management and email/text gateway. If you've invested in a radio communications system, your software needs to integrate with that system to make the most of that investment.
Platforms available
Software solutions are available as cloud-based, mobile, on-premise or combinations of all three. Which one you choose depends on your company's policies on use of cloud-based applications as well as the number and locations of your facilities. A computerized maintenance management system with hand-held devices tied into your wireless communications system can greatly increase the efficiency of technicians and other staff. Keep in mind not just what you need today, but also what you'll need in the future.
Customized to your type of facility / your job
While you may find a facility management software package that's configured for your exact type of facility and your role as a facility manager, it's more likely that you're going to need to customize the software you choose to some extent. Choose your top five packages based on reviews, descriptions, and recommendations, and from there, get a trial or a demo that allows you to ask questions and have demonstrations of all of the software's features. Test the software thoroughly, so that you can see how much you'll need to invest in having it configured to meet your specific needs.
Ease of use
While you will need to invest in training, you'll want a system that's intuitive enough to be used by all of the people you want to have access to it, from facilities management staff, to the head of your organization, to public safety agencies. Look for a user-friendly interface and the ability to set different levels of access and permissions for different users—these will speed up adoption of the new system across all stakeholders. Whether users are booking rooms or fulfilling a maintenance request, everyone needs to be comfortable navigating the software, or you'll be spending time fielding technical assistance requests.
Number of users – both now and into the future
Make sure the software you select can accommodate not only the number of users you have now, but also the number you'll have in the future. Your system should be scalable and flexible enough to grow with you seamlessly so you don't have to overhaul a few years down the road.
Take a test drive
Most, if not all, facility management software developers are eager to show off what their products can do for you. Scheduling demos is a good way to gauge the look and feel of each solution, as well as the functionality. A trial period is also a much-advised step before making an investment in facility management software. Even if you have to pay for a one-month trial, it's worth it to avoid making a long-term investment that's not right for your company.
To find the perfect communications solution for your facility, contact Chicago Communications today!