Lester started at ChiComm in October of 1983, and upon his retirement next week he'll have put in just over 29 years here. He has primarily been a mobile installer for ChiComm but he's done a little bit of everything throughout his years here (base installs, microphone repairs, squad builds, responding to service calls). At the time he started the cellular business was booming in full swing so he jumped right in to learning how to install mobile cellular units in cars. Besides the skills he learned from some electronic courses he learned everything he knows on the job. His job description includes: installing a wide range of equipment in vehicles and repairing equipment when necessary, whether in the shop or on location at a customer site. A majority of the jobs he's worked on have been for government agencies, including dozens and dozens of squad cars and undercover vehicles. He has been working on vehicle solutions for as many years as he can remember.


What makes Lester unique to everyone else at the company is his heritage and that everyone says he looks like Walter Payton. Lester was born in 1944 in Clarendon, a city in central Jamaica . He attended high school and some extended education courses there before moving to the United States in 1971 at age 27 to finish school. He only planned on coming to the U.S. for 5 years to finish school and head back. But things happened, like having kids, and everything changed. Just about every year for 15 years when his kids were growing up Lester and his family would take a vacation to go back to Jamaica in the summers. The most recent time he went was for his daughter's wedding in Montego Bay.
Lester took electronics and other courses at Oakton Community College and Truman Community College. He also ventured into real estate in 1978 and has done that part time every year up until 2010 in addition to working full-time for ChiComm. He is still a licensed realtor for residential property.
Everyday is different and everyday can be a challenge for Lester, but that's his favorite part of the job. It's extra challenging when a project involves a new kind of vehicle, but once he's figured it out, it gets easier each time after. He also appreciates times when he's working alone in the peace and quiet, without distraction.
I asked him what he thought about working for Chicago Communications and he said, "People keep coming back because we've been able to help customers in a very timely manner and it is a reliable service that's done right. There's been many times people have said they should have come here first instead of going somewhere else. You always get what you pay for." Thanks to Lester for his 29 years here, the wisdom he's shared with others and his contagious optimism!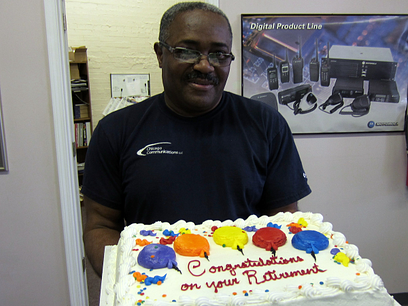 In honor of his retirement we'd like to share the well wishes & memories received from his co-workers:
Lester, while I have only had the pleasure of working with you eight of your twenty-nine years, I can say without hesitation you have been a tremendous asset to ChiComm. Your work ethic and integrity have been a contributing factor in the success of this company. You have worked hard for twenty-nine years, it is now time to enjoy your golden years. I wish you the very best in your retirement. Thank you for everything that you have done. –Kurt Hessler
We have worked together for over 25 years. There were many good times and laughs that I will never forget. I learned a lot from you. I cannot remember ever hearing a negative comment from you or about you. It shows the person that you are and the co-worker we all respect. We will all miss your professional expertise and your friendship. My best wishes go with you and we will keep in touch. –Jimmy
I don't know where to start. I've known Lester for almost 30 years (we both started here in 1983). He will definitely be missed. Lester has the best work ethics of anybody that I know. He is always at the shop before 8:00 and he is always there later than 4:30. If at any time during the day he has some free time he will sweep the bay, or organize removal equipment. Lester always has more vehicles in the parking lot to work on, but he never complains. Lester is a lot of fun to work with. He has a good sense of humor and is always joking around. I wish that I could have worked with him more. There are only a few people that know what Lester really does, but after he retires you may need two people to replace him. –Mike Falls
Lester is one of the nicest guys, and it's been nice working with him over the 29 years. The world would be a lot letter place if there were more Lester's. Best wishes and good luck –Ken
I worked with Lester 23 years. He's always in a good mood. He's an all-around great guy I learned a lot from and I wish him the best. –Tony
Lester has always been a pleasure to work with and he's a hard worker. I hope he has a good retirement. –John Marquardt
The thing I'll always remember about him is he always sang or hummed…and he kept you in a positive state of mind. You could always find Lester by listening for his singing. -Curt Rockcastle
Congratulations Lester!! -Nancy Paroubek
Lester has always called me his son. One time Cindy came down to the loop, I pulled up in my truck and Lester says, "Oh my son is here." Cindy said, "Wait your son is driving one of our work trucks?!" We all laughed when she realized it was me. I've been working with him on/off for almost 10 years. We've worked on some pretty big vehicle projects. Lester is a great guy, he's fun to work with, and I'm going to miss him.—Mike Zajak
We love Lester and he better keep in touch! –Linda Fulton
Congratulations & Good luck! -Warren Bastiani
He's quiet, hard-working & looks like Walter Payton. –Dan Wolski
No matter what kind of day you'd be having Lester would cheer you up because he's always smiling. He'd say, "Hey, smile mon, it's not that bad." I'm going to miss him. –Emory.
He's never in a bad mood, always a positive thing to say, always early to work, and can count on him to help you out with anything. We will miss you a lot at the Loop Shop. Congrats on your retirement Lester. -Ryan Lambrecht
Lester's a very good guy. Every time I worked with him was a lot of fun. Have a good retirement! –Anthony P
Best wishes!-Phil Carrol
Ya Mon! I wish you well Lester. Happy Retirement—John O'Brien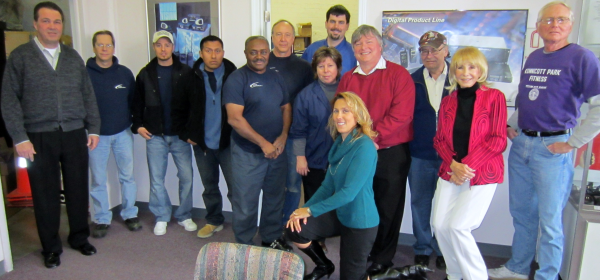 This article was written by Jill McNamara, Internet Marketing Coordinator at Chicago Communications. Jill has written all of the Meet Our Techs & Employee Spotlight articles for ChiComm's blog and continues to seek opportunities for articles relating to the wireless communications industry. If you'd like to submit a suggestion for Jill, Contact Us!