Two-way radios, when deployed correctly, can transform a business, campus, industry or agency. With this one solution, alone or in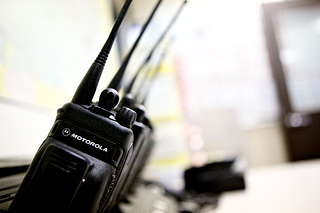 combination with applications and accessories, you have the opportunity to solve countless communications and safety problems and address issues with collaboration and productivity.
In my 38 years working with radios, I've found that the keys to unlocking radios' potential are to choose carefully, to have strictly followed maintenance and training plans in place, and to supplement with applications and accessories. Users across the spectrum will attest that for frontline workers, the ability to quickly communicate from one to many is just the beginning of what radios can do.
If you're shopping for devices for the first time or considering an upgrade to your fleet, here is everything you need to know about two-way radios.
Let Your Needs – Not Price – Lead Your Decision
Far too often, people choose radios based on what they want to pay rather than what they need the devices to do. The old adage is true: You get what you pay for. A lower-tier radio may save money now, but it will end up costing you more in the long run when you have to repair it more often and replace it sooner than you expected.
I encourage our clients who are shopping for radios to consider the full cost over the life of the device. A high-quality radio costs more upfront but will last your team five to seven years and require far less maintenance than a low-cost device with a shorter lifespan. Buying more sophisticated radios also means you'll also have access to the features and functionality you need now and several years into the future.
Once you've chosen the right radio, make sure you also buy a battery that can keep up. Battery life and reliability are important enough that you don't want to skimp on them. While a high-tech battery also costs more upfront, it will last potentially twice as long as a less expensive one and will have features you'll be glad to have. Motorola's IMPRES battery has a smart charging system, for instance, that measures the battery so you'll always know what condition it's in.
Consider Replacing Cell Phones with Radios
Two-way radio communication has come a long way since the days when a mobile system took up the entire back seat of a police squad car and a two-way radio's range was very limited. And the evolution of digital has brought features and capabilities that make radios for commercial and industry purposes a much better communications solution than cell phones.
Cell phones were the first to make the technological transition from voice-only devices, gradually gaining features such as caller ID and shifting from analog to 4G and even 5G. It took two-way radios a while to catch up, but it has happened. When many people think of two way radios, they picture devices that offer little more than push to talk (PTT). But as with cell phones, digital has opened a whole new world, with applications that expand their reach and power.
Radios are a robust solution and clients find that they can bring them on to replace their company cell phones rather than just supplement them.
Evolved features that help radios surpass cell phones include:
Indoor location
Text messaging
Alarms for events that require immediate attention
Work ticket notification & management
Lengthen the Life of Your Radios with Regular Maintenance
Our goal is to keep your devices going strong for as long as possible, and that means scheduling regular maintenance and not just bringing them in when something goes wrong.
You should have your radios checked by a service professional at least every two years. Many radio retailers also have service departments, and you may have the option to have someone come onsite to your location or to rotate a few radios in to their shop at a time.
Regular maintenance will, among other things, verify that the manufacturers' specs are being met and that your battery is of sufficient quality and lifespan. Having your radios serviced on schedule will head off performance problems and increase the chances of a longer life.
Maximize Your Investment with Training
With every radio purchase, a sales representative should show and describe user basics as an initial orientation for you and your team. The more sophisticated the radio and the more robust the features, the more involved that orientation should be. Because no matter how much you spend on your radios or applications, your employees won't use what they don't understand.
Your team may balk at having to be trained on devices that used to fully function literally with the push of a button, but wait until they see all of the things their new radios can do.
Training with your team will also help you determine what features they need enabled. You may decide, for instance, that only a fraction of your workforce needs man down.
Enhance Your Radios with Applications & Accessories
Radios alone are effective wireless communications tools, and applications and accessories offer the opportunity to expand their capabilities and tailor them to exactly what the different members of your team need.
Depending on the platform, here are some of the most popular applications that are currently available:
GPS tracking
WAVE Work Group Communications
Calling capabilities
Dispatching
The environment you're working in will dictate what accessories you choose, and popular products include:
Speaker microphones
Headsets
Bluetooth-enabled products
That's Everything
Whether you're selecting a handheld two-way radio model for the first time or updating your existing fleet, there are a few factors to keep in mind that will help you make the best investment upfront and steps you should take to maximize that investment over time. Qualified two-way radio service providers can help you create and implement the best solution.
It's tempting to make your decision based on price, but the best approach is to shop by solution. When you consider what communications problems you're facing rather than the price tag, your choice will become clear and you'll be more satisfied over time that you made the right decision.
Proper maintenance and training will head off performance problems, and applications and accessories will take your radios to the next level.
To learn more about creating and maintaining a successful two-way radios system, contact Chicago Communications to set up a free consultation.