As a 40‑year member of the Chicago Communications team, Tom Treichler has helped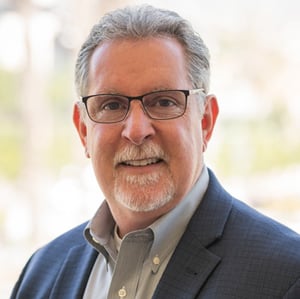 countless customers. Now the Director of Operations for Sales and Service, he says the teamwork used to solve customers' problems is what he loves most about his work.
"At times it can be challenging, but in the end working to get projects installed and solving customer problems are the two key factors that I like about working with Chicago Communications," he says.
This focus on connecting with customers is a common thread throughout Tom's career. He has been solving problems for others since he began his technical career after graduating from DeVry Institute of Technology in 1982.
A dedicated career
Throughout Tom's technical career, he has worked in a variety of roles, all dedicated to providing quality equipment and maintenance for customers and clients. First, he built his skill set as a bench technician for several years. Later, he was offered a position performing field repairs on the base station crew.
Tom has built a career on a handful of communications equipment jobs. He's worked on dispatch console build‑outs, paging systems, and more. At one point, Tom helped maintain sites for Ameritech Cellular - now known as Verizon - the first company in the country to offer cell phone service to the public.
Eventually, Tom moved into a remote supervisor position before shifting into a service manager role at Chicago Communications. In 2004, Tom moved into yet a new role. This time he was drawn to a position that used his extensive knowledge of a variety of communications equipment to help lead the sales team. He still directs sales and service at Chicago Communications today.
A partnership highlight
Tom says there have been many moments when he felt proud to be a part of the team at Chicago Communications. But one stands out above the rest.
Motorola holds bi‑annual meetings with industry partners chosen for their ability to present new ideas and inform the corporation of real mission‑critical communications issues their customers are facing. Tom was invited to be part of that select group for six years running.
"Being asked to be on the Motorola Partner Advisory Board was probably one of the best moments," he recalls. In the meetings, the partners and Motorola representatives discussed sales issues, customer needs, and new ideas for improvements moving forward. Motorola Solutions calls these channel partners "a smart extension of our business."
Connecting to customers
Tom says working on "the technical side" of things gives him a unique opportunity to build trusting relationships with customers. Working closely with customers' equipment helps him offer customized solutions. In some cases, that means offering system migration options instead of system replacement all at once. In other instances, it's as simple as helping customers understand the difference between what WiFi versus CBRS can do for their organization.
"It is really surprising what some other companies do to get an equipment sale," he says. "Low‑tier products specifically. You truly get what you pay for in our business. The cost of equipment you purchase today is over the life of the product, not just what you buy upfront. It entails the installation, repair, and service of the equipment."
Enjoying work and life
Though Tom enjoys the on‑site teamwork and solving customers' problems, he also stays busy at home. He recently finished remodeling his house, and he loves working in the yard. As for three things he can't live without? His relationship with his girlfriend, his kids, and his grandkids. From cultivating trust with customers to spending time with his family, Tom enjoys building connections in his life.
Interested in discussing communications equipment options with Tom or his team? Contact us anytime for a free consultation.