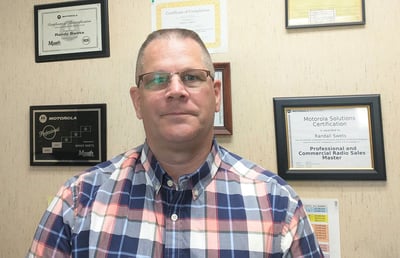 Randy Swets learned early on about the value of radios in public safety. His father was a career firefighter in the south suburbs of Chicago.
Young Randy became fascinated with electronics and followed that interest to the DeVry Institute of Technology where he was trained in the service side of the communications technology business.
He began his career installing radios in vehicles "of all shapes and sizes." These days, he's an experienced account executive with decades of experience in the communications technology industry.
The Early Days
In what Randy calls his "previous life," he was installing precursors to cellular phones: IMTS radio telephones. He even got a call to install one on a 54‑foot Chris‑Craft yacht — in Belmont Harbor. "That was a very nice Saturday," says Randy. "Actually, I got to go out for a cruise afterwards. It was a terrific experience."
He also worked for a company that sent him to Hawaii to install radio equipment on the top of volcanic mountains. "That was incredibly unique for a boy that's been in Chicago his whole life; the closest thing we have to mountains is the skyscrapers downtown," says Randy.
After those career highlights, Randy decided to move from service to sales. "After I reached my pinnacle in the service side of the industry, I moved into sales, and that led me to Chicago Communications," says Randy. "And I'm very very happy to be part of this team."
Randy has been a member of the Chicago Communications team since 2014.
Caring for Customers
Randy's never‑ending curiosity serves him in his role. He loves to ask questions to get to know customers better, to understand their communication needs and concerns.
He knows how to get a conversation rolling. In fact, he got his start by building a customer portfolio from scratch. "Much of my time in those days was spent literally walking into organizations that I thought might be a fit asking open‑ended questions, asking just to speak with someone for a few minutes and hopefully uncover a need or a want or a desire," he says. "The most fulfilling part of what I do is to uncover that unforeseen need, fill it, solve the problem that they didn't maybe even recognize existed. And then to have them tell me later, 'We just don't know how we ever did business without this solution that you brought to us.'"
To Randy, getting to know customers on a personal level is part of his mission.
"We get to know them on a much more personal level, and know a lot about their business," he says. "And that's one of the most interesting elements of what I do— just knowing about a wide variety of industries and things that people do for a living— and why they do them. We ask a lot of questions and the answers help us help them."
Even though Randy is well‑versed in all the technical aspects of communications technology, he knows that the gear is just a means to the end. "Simply put, we provide a wide variety of technology solutions to dramatically improve our customers' safety, security, and efficiency," he explains. "It's not boxes and blocks and widgets and gizmos; it's how do these things affect their lives?—not only personally and professionally, but in some cases, emotionally."
For example, Randy believes all customers need to feel safe in their workplaces.
Prioritizing Safety
"With outbreaks of violence at workplaces today, emotions are a big part of what we can help with as far as safety solutions and mitigating those instances in a positive way," says Randy. He says he has uncomfortable yet necessary conversations with personnel at schools and public safety facilities about how to address their concerns about potential violent incidents.
"The collateral damage caused by such horrific events is something that folks need closure on," says Randy. "Our solutions not only work toward mitigating the incident as it is occurring, but oftentimes help law enforcement punish the wrongdoers and bring them to justice, which helps the emotional part, the need for closure in those scenarios."
Partners in Collaboration
Randy considers Chicago Communications to be a partner to clients and customers, not just a vendor. "A pop machine is a vendor," he says. "We're a partner. We collaborate with our clients and customers, not only in their enterprise, but what their needs are — many times on a personal as well as a professional level."
Randy also loves the challenge of helping customers find just the right solution for their needs — and sharing information about products and services in ways that they can understand.
"I think customers, many times, are not technical people. They know their business, they love their business, they don't know communications, or video surveillance, or license plate recognition — or they don't know one radio from another and don't really care." Randy explains. "But they do have a list of needs, wants, hopes, and dreams."
His job, he believes, is to direct customers to the solutions to their communications challenges — now and in the future.
"Our niche is to really walk alongside them and direct them to the best possible solution, not only for their immediate needs, but the needs that we could anticipate down the road," says Randy. "As things change, we can dip back into that portfolio and see where we could find another product or solution to address a new need as it arises."
Grandpa's Boat
Randy feels blessed that he and his wife live close enough to their grandchildren to be able to attend their baseball and soccer games. He also owns a small boat, and enjoys fishing with his wife.
What are the three things Randy couldn't live without? "Anything outdoors is what I would say," says Randy. "My personal faith, the family, and quite honestly everything else sort of fades into the background when I'm spending time on the water on vacations and for recreation. That, to me, is far and away the most relaxing and enjoyable thing that I do."