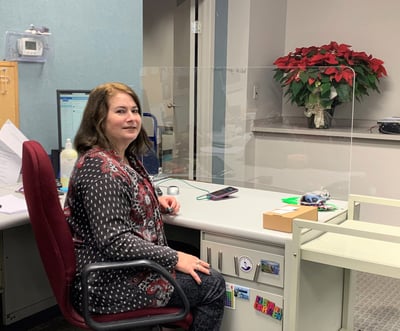 Lynne Kelliher, a 7‑year member of the Chicago Communications customer service team, still describes herself as "the new kid in town." She says she enjoys working with "so many super‑smart people" who have spent their entire careers developing expertise in ChiComm's communications equipment and services.
"My co‑workers at ChiComm are top‑notch," says Lynne. "They are a great blend of helpfulness, knowledge, professionalism, and occasional in‑office pranks. It is a nice place to work."
As a point person who works in service and dispatch, Lynne counts on her ChiComm teammates to be the ultimate experts on two‑way radios or DAS systems, while her in-depth expertise is in customer service. No matter what a customer needs, Lynne is available to help them find the right person to answer their questions, troubleshoot their equipment issues, and find the perfect communications solutions for their needs.
"When a customer needs a technician on‑site for radio equipment repairs, programming, or maintenance, my department makes that happen. Somebody knows the answer for every single phone question," she assures. "My job entails finding the right person for the customer."
A Lifetime of People Skills
Lynne earned a Bachelor of Science in English (technical writing, specifically) from Illinois State University. She also minored in chemistry.
"I graduated so long ago that tuition topped $1000 per semester," she says.
After college, Lynne worked as a copywriter for a scientific instrument company, then as an automobile claims adjuster. She's had plenty of professional successes, but says the best job of her lifetime was her 18‑year stint as a stay‑at‑home mom.
Being a mom didn't mean spending all her time at home. During those years, she honed her skills as a classic "people person." Like many moms, she shuttled her kids back and forth from school and after‑school activities. She became president of the PTA. She grew increasingly involved in Girl Scouts, Boy Scouts, and area religious education. She also volunteered at the school and library.
All in a Day's Work
These days, Lynne's most important task at ChiComm is answering the phones to help customers find solutions to their problems.
"I like that ChiComm management insists on a human answering the phone. When customers phone ChiComm, they do not get a crazy voice‑activated, AI voice run‑around," she says.
No matter what kind of day she is having, Lynne strives to remember the 12 points of the Scout Law whenever she answers the phone. That includes a commitment to trustworthiness, helpfulness, kindness, cheerfulness, and more.
When she's not on the phone with customers, Lynne checks in communications equipment that has arrived for repairs. She also tackles the "mound of never‑ending paperwork" and occasionally resurrects her "mom hat" to remind technicians to update their job tickets.
Life Outside of Work
Of course, work isn't everything. Lynne enjoys spending time with her adult children and her husband of nearly 30 years, Dan.
She also juggles several hobbies, from rocking out at live concerts (attending 22 music events in 2019 alone!) to birdwatching, fishing, and camping in the great outdoors. She also enjoys cooking and baking.
Though Lynne takes professionalism and customer service seriously, she also thinks relaxation and outside activities are essential in life. No matter what goes on at work, there are three things she can't live without: faith, her loved one, and fun.