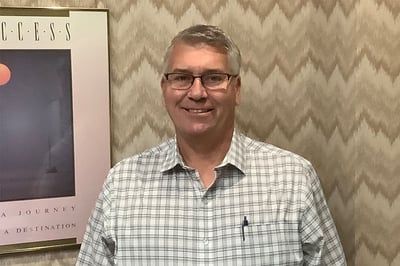 Since the merger of Chicago Communications with Miner Electronics in early 2021, personnel from the two companies have enjoyed the benefits of combining forces.
A great example is account executive John Schoon, who brings a wealth of experience to the Chicago Communications team from his background working with public safety organizations to optimize their communications systems.
A Problem‑Solver
John is an expert in helping find technology solutions that help public safety officials communicate safely and securely.
But he didn't start off in the radio communications industry. After earning a business degree more than 30 years ago, he worked in the newspaper field, in advertising sales and management.
"Part of selling is getting face‑to‑face with customers, and I'm listening to them and talking with them about their needs and how we can help with that," says John.
Fifteen years ago, he found his professional home in the radio communications industry, beginning with Miner Electronics.
In his position there he found he was drawn to the mission of helping municipalities enhance public safety by optimizing their communications systems. The types of customers he enjoys working with include 911 communications centers, police and fire departments, public works departments, and highway departments.
"I work hands‑on with police, fire, and other municipalities, checking out what their needs are," says John. "Figuring out how we can help solve some of their problems or challenges that they run into and sharing information with them on the latest technologies that might help them or improve their ability to operate on a day‑to‑day basis."
"Anything we can provide that assists public safety is always exciting," he adds. "Making sure that policemen and firemen are safe when they are on the scene. Their ability to communicate is vital. And we want to make sure they have the latest technology to do that."
Keeping Up with a Changing Industry
John says his favorite part of the job is helping all his customers overcome communications challenges and introducing them to technology solutions. "Technology is changing on a day‑to‑day basis," says John. "Advancements are happening all the time in this industry. And there's always something to share."
He appreciates the way the Chicago Communications technical and sales departments collaborate to solve customer problems.
And because his favorite part of the job is the personal relationships, he's glad that his job is involving more face‑to‑face interactions now, after a year and a half of working almost exclusively online because of the pandemic.
Improving Communication for a 911 Communications Center
As an example of the kind of challenges John enjoys solving, he describes working with a 911 communications center that needed to communicate with personnel in different communities. "The term that's used most often is interoperability," says John, describing it as "the ability for both police and firefighters to work with each other and assist each other."
This ability to seamlessly communicate with multiple municipalities is key to responding to public safety emergencies, John adds. "We have worked with multiple counties in both Indiana and in the Chicagoland area, helping them have that ability through their communication system."
The Great Outdoors
When John is not working with Chicago Communications customers, he enjoys hunting and fishing and spending time with his family "in the outdoors as often as possible."
The three things that he couldn't live without: "My faith, my family, and my friends. I know that's fairly cliché, but it really is true."