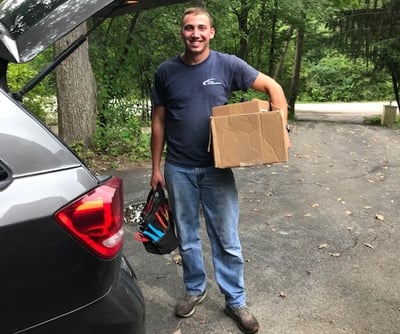 As one of the Field Service Technicians on the Chicago Communications team, Grant Glashagel spends a lot of time on the road. He sets up radios in police patrol cars. He fixes communications equipment in loading vehicles at manufacturing plants. Regardless of where his work takes him on any given day, you'll find him completing mobile installations for ChiComm customers.
"I have an Associate's of Applied Science Degree in Automotive Technology and a Bachelor of Science in Management," he says. "My degree in Automotive Technology and all of the years I spent working on cars and trucks provided a good foundation for me to begin working full‑time at ChiComm."
A budding communications career
Grant has worked intermittently for ChiComm for about seven years. He entered the business as a student. After working during summer and winter breaks throughout college, he naturally transitioned into a full‑time role as a mobile installer after graduation.
Variety is the spice of life, and that's the case for Grant's working hours. He enjoys connecting with so many government agencies and organizations all over Chicagoland and beyond. Most of all, he likes his role as a sort of linchpin — "I install mission‑critical or emergency communication equipment in all types of vehicles for all types of customers," he says. "[I'm] the guy that's there to put in the equipment that's critical to their job," he says.
Since ChiComm provides communications equipment for manufacturing facilities, healthcare systems, schools, hotels, and more, Grant gets to help a variety of organizations update their radios and communication systems. He sees his role as helping organizations "connect at the push of a button so they can do and coordinate [their] important work efficiently and safely."
A typical workday
When you work with customers in a variety of industries, there's no such thing as a typical day. For Grant, traveling to so many different places and companies in the region is all in a day's work.
"One day I could be installing radio equipment in a loader for a village that's preparing for snow season… and another day I could be removing all of the radio equipment from a vehicle that's being readied for auction or that was in an accident and being totaled," he explains.
Most days, Grant's morning begins by picking up a load of equipment at ChiComm's main shop. From there, he drives anywhere from downtown Chicago to Indiana or Wisconsin to visit his customers for the day. Depending on the organizations' needs, he could spend the afternoon installing, removing, or repairing mobile radio equipment.
"I've definitely driven to a lot of places I've not been before this job. I now know the area better than I ever have," he says.
A life outside of work
Though Grant enjoys working in a diverse range of settings throughout the day, work isn't everything. When he's not on the job for ChiComm, he stays active and busy outdoors.
"I enjoy just hanging out with my friends, snowmobiling in the winter, and spending days on the lake in the summer," he says.
As for three things he can't live without? "Family, friends, and toys."