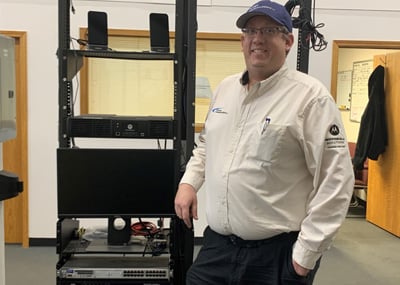 As a base field technician for Chicago Communications, Dustin Heuser values being able to work on new things, which he says keeps the job interesting and his knowledge fresh.
Coming up on his third year at ChiComm, Dustin is responsible for the integration and maintenance of base radio systems and 911 systems, along with extra items such as distributed antennae systems (DAS) and bi‑directional amplifiers (BDAs).
Dustin came to ChiComm from an extensive background in communication technology. His career began in the Army, where he worked on line‑of‑sight radio communications as a multichannel transmissions systems operator. From there, he joined the forces of Nextel and then Sprint as a cellular field tech and gained further telecommunications and radio frequency skills. He says while working at those companies, he would occasionally need to call in the services of ChiComm to aid with things like fiber runs or antenna locations and installs.
Dustin's career took him next to Ericsson Communications, a company that took over network services for Sprint. Ultimately, he landed at ChiComm, and the rest—he laughs—is history.
"I like being a technician here because I get the opportunity to continue training and to learn new things," he says. He adds that ChiComm has given him the ability to make a difference through communications technology, including being involved with the installation of systems at places such as Northshore Health and Barrington School District 220. "Having these systems in place has significantly helped in safety and security, and I am proud to have been a part of them," he says.
He notes that each system he encounters is different, along with the level of radio knowledge of each customer. But he notes that every customer who is changing technology or approaches has to get to a new comfort level, and he likes to be involved in helping them reach it. "It's about education and walking them through the process. As a technician, I find that rewarding."
In his free time, Dustin is involved in local politics and is on the board of trustees for the village he lives in. He is the vice president of his neighborhood HOA as well. He enjoys listening to podcasts and playing PS4. Another interest is playing disc golf, which he says he doesn't do as often as he'd like.
Finally: The three things he can't live without? "Technically speaking," he laughs, "Water, food, and oxygen."
You can request to contact our sales team and start improving your safety and communication capabilities with a free consultation.