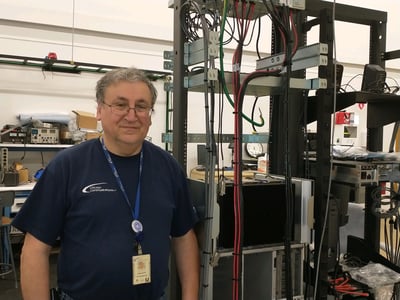 Public safety depends upon people like Alek Shvartsburg, a committed field technician responsible for maintaining 911 communications dispatch centers, including the busy Cook County Sheriff's Department.
Alek describes some hair‑raising adventures as a technician, including climbing a 20‑story building to work on an antenna and coping with a broken elevator in the Willis Tower (formerly the Sears Tower).
For Alek, it comes down to one simple fact: "I like helping people; that's why I like this job."
Alek has been a member of the Chicago Communications team since 2005.
But his long history with electronics and communications service pre‑dates his time with Chicago Communications, or even his time living in the United States.
An Immigrant's Story
Alex grew up in the U.S.S.R., and attended the Institute of Electronic Technology before moving to the United States. He spent 10 years working in a different Motorola shop before joining the Chicago Communications team in 2005 when that shop closed.
His reputation as an excellent technician preceded him. "The managers knew about me because I was working with them, and they recommended me," says Alek.
Knowledge: Inside and Out
Working in the service department at Chicago Communications, says Alek, means understanding the entire system, not just the components of the radios he fixes. "You can't know only about radios, or phone systems," he says, but need specialized knowledge of the computer systems that are now part of communications technology.
Beyond that, technicians need to understand the big picture of public safety. Although he's not involved in sales, Alek will let a customer know when their equipment is reaching the end of its life.
Public safety also reaches beyond police, sheriffs, and fire departments, and Alek is there to help ensure that many different institutions are able to communicate seamlessly and quickly.
Alek has assisted hospitals, schools, manufacturing facilities, and delivery services, including the U.S. Postal Service, UPS, and FedEx. All these sectors play a part in maintaining public service.
Commitment to Efficient Service
No matter where Alek goes in the Chicago area, he enjoys figuring out what the customer needs and how to deliver it efficiently without hassle. For longtime clients like the Cook County Sheriff's department, for example, he approaches every service need with the benefit of years of experience with their staff and their equipment. "I know that I can fix it; I know exactly what I'm doing. I'm not wasting any time."
A typical workday for Alek involves checking in with his supervisor and heading right out to the field to work with customers. Much like a 911 communications center, Chicago Communications technicians are dispatched to different sites where customers need assistance.
Depending on how complicated the job is, Alek might average 1‑3 calls each day. Most of that work is inside dispatch centers where the communications equipment is located, but Alek has had some memorable calls involving servicing antennas that required an extra dose of calm and dedication.
Alek's Windy City High‑Wire Act
"There was a veteran's hospital where I to replace some equipment and it was about a 20‑story building," he recounts "Plus you had to climb a ladder — that was probably three more floors, and then you had to stay on a small platform, like 1 foot by 1 foot to install it on top."
That's not all. "It was a windy winter if you're familiar with Chicago weather."
Another call to the 106‑story Sears Tower (now the Willis Tower) had Alek and his partner hauling equipment up and down stairs because the elevator to the sky deck had been shut down as a precaution for tourists. He didn't walk all 106 stories, but Alek was carrying heavy tools.
Ready for Adventure
One of the things Alek enjoys most about living in the United States is having the ability to travel by car. In his younger days, that was not a possibility in the Soviet Union.
He loves road trips and has driven with his family from Chicago to California, New York, and Florida. In 2020, they enjoyed a visit to Key West.
But for now, Alek is staying put in the Chicago area, awaiting another life adventure: His daughter is expecting a baby.