Well, it's hard to believe but the holiday shopping season has begun. How do I know? As luck would have it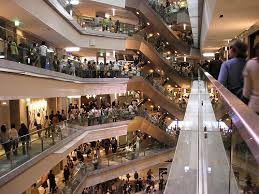 I spent one of my days this past weekend at the mall with my daughter. The mall was absolutely packed. It was wall-to-wall people and wall-to-wall parking. Here I thought I was getting a jump on my holiday shopping by going before Thanksgiving, but apparently everyone else had the same idea.
So, why am I telling you all of this? I can explain. One of the scenes I observed while shopping, and I see this more and more as I know you do too, is a shopper on the phone describing or discussing a potential purchase with someone to get their opinion, or a shopper taking a photo of an item to send to someone to get their thoughts. How many of us have done this ourselves? I have. I have a son who would rather do ANYTHING (and I mean ANYTHING) than step foot into a mall. So, when he needs a new pair of jeans, or new shoes, because he grows literally overnight, my daughter and I will shop for him and send him photos of what we find to get a "nay" or "yay" on the items. It is a system that actually works quite well. Unfortunately, it doesn't always work exactly the way I and others would like it too. Why? When there is no cell signal in the mall the system doesn't work! When this happens I can't send the photo of the item to my son, or call him to describe an item to him. What I typically have to do then is leave where I am and go hunting for a signal. Ugh! These days there is NOTHING more frustrating than this, and to be honest no excuse for it (because the technology does exist to correct the problem). When I experience no cell signal in the mall or the store, not only do I then run the risk of losing the item(s) to another shopper, but the store runs the risk of losing a sale. It's not good for either of us.
How do malls and stores keep this scenario from happening to its patrons? As I said, the technology to correct the problem does exist, so they should call Chicago Communications! We have the equipment and the expertise to enhance cellular coverage in buildings, even malls. Not only can we enhance cell coverage for customers, but we can enhance the radio coverage for First Responders who may have to enter the mall in case of an emergency. It is a win-win for all!
With all of the frustrations the holidays can bring, poor cellular coverage in buildings doesn't have to be one of them. Let Chicago Communications help make the holidays merry by improving coverage in your store, mall, or building. Call us today!

This article was written by one of Chicago Communication's Principals, Cindy Glashagel. Cindy has over 27 years of experience in the industry. She held many positions during her tenure at Motorola, beginning with Systems Engineer and other various customer service, quality & operations management, and HR positions before resigning to start Chicago Communications, LLC. If you have any questions for Cindy, or another representative at ChiComm, please contact us.