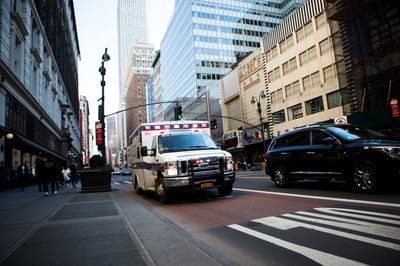 Emergency responder radio coverage in buildings is guaranteed by WiFi and cell coverage, right?
Wrong.
Our new video explores the importance of a dedicated distributed antenna system solution for first responders and why it's so important for developers, architects and construction crews to work with public safety in mind from the very beginning.
What Distributed Antenna Systems Are
A distributed antenna system, or DAS, is used in buildings to amplify signal to create seamless, reliable radio and cell phone coverage. A DAS is a network of antennas that work with bi-directional amplifiers to amplify radio frequencies and commercial cellular signals.
The system works by picking up wireless signals and frequencies that are found lacking in coverage and re-distributing them throughout an area or building, particularly in hard-to-reach spots such as: stairwells, garages, tunnels and in hilly, secluded and rural locations.
Ensuring Emergency Responder Radio Coverage In Buildings
Public safety two-way radio signals cannot always penetrate the surfaces of buildings that are made of concrete, steel and some eco-friendly building materials. A common misconception is that WiFi and cellular coverage support first responder communications — they don't.
Therefore, first responder coverage should always be supplied through a dedicated distributed antenna system. Essential reliable radio coverage saves lives, and this coverage is now the law.
Across the country, officials and public safety and building codes have looked to the National Fire Protection Association and the International Fire Code agencies when creating radio coverage requirements.
Local jurisdictions strictly enforce the code, and no certificate of occupancy will be issued for new construction until the code is met. Without this certificate, there can be no tenants inside the building.
Why It's Important to Plan Ahead
While codes are not uniformly enforced in all areas of the country, which causes countless misunderstandings, many counties and municipalities are starting to enforce it retroactively, so it is very important to plan ahead.
It does not save money to skip the installation of a DAS system during construction, in fact, it costs much more money to retrofit a building later. Retrofitting and implementing a DAS system later can — and most likely will — ruin the building's aesthetics.
Implementing a distributed antenna system after a building is completed requires cutting into ceilings and walls or working around infrastructure in an unattractive and disruptive way.
Planning early not only incorporates the cost of the distributed antenna system into the initial construction budget, it also gives architects and engineers time to integrate the distributed antenna system into the building's initial design plans, allowing it to be installed in parallel with electrical and low voltage systems of the building.
Experts in DAS
Chicago Communications has designed more than 1,000 distributed antenna system solutions for clients. Our tailored systems deliver the data, voice calls and information that are crucial to our clients operations.