If you're looking for customer service training ideas, consider having your team watch, discuss, and write about "The Diamond Story" video, described below. It's a sure-fire way to build your team's customer service skills. But beware—it's a tear jerker, so have tissues handy in the training room.
While hurriedly trying on clothes at her local Nordstrom store in North Carolina, long-time customer Lisa McIntire Shaw lost the diamond from her wedding ring and didn't realize it was gone until she got home.
She rushed back to the store to look for it. When Nordstrom loss prevention manager Eric Wilson spotted her looking for the ring – on her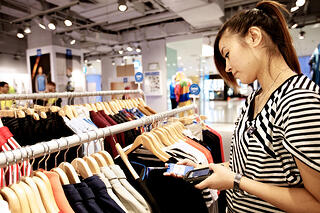 hands and knees in a dress, no less – he took up the search himself. When he couldn't find it, he enlisted the help of two building services staffers to sift through packed vacuum cleaner bags until they unearthed the "diamond in the rough."
In a brief video where she tells "The Diamond Story," Shaw says she tells everyone she knows about Wilson and how he went above and beyond to pay attention to her needs as an individual.
"This was, 'I did this for you because that's who I am as a Nordstrom employee, and I value you as a Nordstrom customer, and I'm gonna go out of my way,'" she says. "Nordstrom employees, I don't care what their job is, they all make a difference in the customer experience."
This is the kind of story anyone would want customers to tell about the customer service at their company and the way that their employees go above and beyond. Nordstrom is renowned for its customer service, and the Seattle-based upscale retailer knows that the key to creating a remarkable customer experience is to treat customers as individuals with whom you're building a relationship, and not just as one half of a transaction. It means figuring out the anwer to the question "what does great customer service mean to you?" for each specific person you're dealing with.
In order to demonstrate truly great customer service skills, staff need to ask: Is there something I can do to individualize the delivery of our product or service to make it easier for them? Can I recommend related products or services based on their history with us? Am I willing to stop them from purchasing something that I know won't meet their needs?
Customers are most loyal to the businesses and brands they know will work the hardest for them and demonstrate that they have their best interests at heart. Encourage your staff to continually think through how to take their customer service to the next level through personalized attention.
Shaw closes her Nordstrom story by saying, "I'm a Nordstrom customer because of customer service. It's solid. I'm locked in. You're not gonna lose me."
To get the communications technology you need to provide excellent customer service, contact Chicago Communications today!