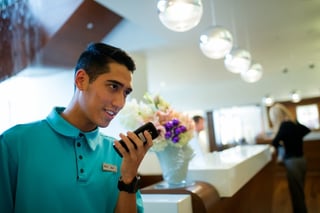 Under a range of circumstances, a distributed antenna system, or DAS, is the go-to solution for spotty cell phone coverage or limited radio range.
When in-building connectivity is a problem, a properly deployed DAS can neutralize dead zones and make dropped phone calls and lost radio signal things of the past.
To give an idea of the solution's versatility, let's take a look at how a distributed antenna system works and some of the most common use cases for DAS.
How They Work
A DAS functions by picking up the wireless signals that are coming into your building and delivering them to hard-to-access spots. A main driver of the system is a bi-directional amplifier, or BDA, which works to locate the wireless signals that are being amplified. Learn more about how a distributed antenna system works by watching our whiteboard video.
To ensure the DAS is effective, it's important that the antennas are strategically placed, which is why it's best to have the system professionally installed and adjusted occasionally. You can find installation tips and more in our distributed antenna system guide.
Where They Work Best
A DAS is the preferred signal-boosting solution for several main categories of properties:
Older structures or tunnels, particularly those made of reinforced concrete, brick or steel, including urban subway systems
Buildings with the capacity to hold a large number of people at a time, such as school campus buildings, high-rise office buildings or hotels, airports, stadiums or factories
Secluded locales surrounded by natural barriers like hills
Any combination of the above
Specific Use Case: Merchandise Mart
In an article about how to boost cell phone coverage, Buildings magazine details the DAS installation at the Merchandise Mart in Chicago, a 4.2 million-square-foot behemoth that was built in the 1930s and houses up to 50,000 people at a time during trade shows. The Mart is so large, in fact, that it occupies its own zip code.
The DAS solution at Merchandise Mart requires a 2,000-square-foot space and is located on the northwest turret of the building's 18th floor.
A facility doesn't need to be as vast as the Mart in order to benefit from a DAS. To find out if DAS is the right solution for you, contact Chicago Communications and request a free consultation with one of our DAS experts.