By the shear presence of the word in our name, many believe Chicago Communications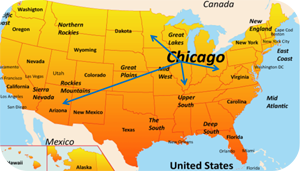 conducts business only in the Chicago area. While we are proud to call Chicago our home, and have called it home for over sixty years, many of our business endeavors take us well beyond this great City's limits. We have customers all across the area and several with locations which extend to the broader reaches of the country. In these instances, we have been very fortunate to continue our partnership with those customers at their extended locations as well. This has enabled us to expand our reach to the central and southern portions of Illinois, north into Wisconsin, west toward the Mississippi, although extending as far as Arizona, and east into Indiana, but as far as Ohio.
Additionally, because our beginnings were in radio, many believe our offerings and capabilities limited to
two-way radios
and systems. While we still consider radio to be one of our core businesses, our offerings and capabilities extend well beyond radio. We are way more than just your 'radio guy'! We engineer, design, build, and service
Bi-directional Amplifier Systems
(BDAs) and
Distributed Amplifier Systems (DASs) to enhance and extend your connectivity in your building or across your campus. We engineer, design, and build wireless networks to create connectivity. when fiber or copper is not an option or not feasible. We engineer, design, and build centralized dispatch solutions to help maximize the use and responsiveness of your resources. We equip your vehicles with the equipment necessary to communicate to your radio, dispatch, or data system. And to top it all off we provide
service
for all we sell (and even for equipment we may not have originally sold you) with a 24/7 technical staff ready to serve you.
In summary, Chicago Communications LLC is your wireless communication integrator of voice and data solutions. Our products and services help the public contact first responders through our dispatched 911 and radio solutions. We improve operations and safety in businesses by getting information to those who need it when they need it. We expand your connectivity by enhancing cellular and WiFi coverage within buildings. By servicing what we sell, we extend the lifespan of your equipment purchases. We create the infrastructure behind mobility.

We're not who you thought we were, are we?

This article was written by one of Chicago Communication's Principals, Cindy Glashagel. Cindy has over 27 years of experience in the industry. She held many positions during her tenure at Motorola, beginning with Systems Engineer and other various customer service, quality & operations management, and HR positions before resigning to start Chicago Communications, LLC. If you have any questions for Cindy, or another representative at ChiComm, please contact us.