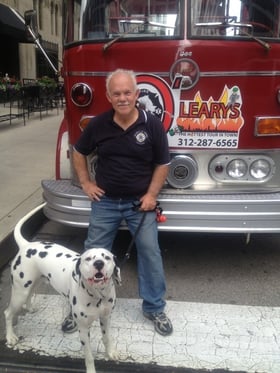 Captain George Rabiela has retired from the Chicago Fire Department, but he and his companion Brady the Fire Dog are still having a positive impact on people's lives.
ChiComm has been fortunate to volunteer alongside Captain George at the Chicago Firefighters Union Local 2 Toy Parades, and we recently donated a lightbar to his efforts to help others.
We're thrilled to introduce you to two of our favorite partners and tell you about their inspiring work.
How He Became Captain George
George Rabiela spent more than 30 years with the Chicago Fire Department, working his way across the city and up the ranks, performing numerous rescues along the way.
He retired from Engine Company 13, where he served as Captain for more than 13 years.
Brady the Fire Dog
Captain George adopted Brady six years ago, when the dalmatian pup was just a year old. George says he has a knack for training dogs and transformed Brady the puppy into Brady the Fire Dog.
At just seven years old, Brady has more than half a dozen titles, including mascot with the Illinois Fire Safety Alliance and the Chicago Fire Department. He's comforted disaster survivors and first responders all over the world, and every year he helps collect toys for kids at Christmas.
George and Brady frequently travel to Mexico to deliver donations of firefighting equipment, and they were in Acapulco in September when the earthquake struck. They made a detour to Mexico City instead of coming home to Chicago to comfort rescue workers and help where they could.
"He was a hit there," George said of Brady. "They all wanted to hug him, they all wanted to take pictures with him."
The pair also arrived in Las Vegas two days after the mass shooting in October to attend memorials, support the 911 center and pray for survivors.
George is a chaplain, and both he and Brady are active with the Fellowship of Christian Firefighters International.
Lightbar to a Good Home
When it came time to find a home for a lightbar that we had here at ChiComm, we knew just who to give it to: George and Brady.
The equipment may get a new life on an engine destined to Mexico or attached to a car for Brady. We're excited that it's getting a good home either way.
How You Can Help George and Brady
Captain George is always looking for sponsors for his volunteer efforts and travel, and he and Brady attend the funerals of firefighters who lose their lives in the line of duty. You can reach Captain George Rabiela through O'Leary's Fire Tours.
(Photo courtesy of Captain George.)