Did you know that Chicago Communications, LLC has two locations? Yes, it's true! While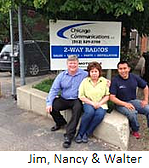 our corporate office is located in Elmhurst, IL, we also have an office in Chicago at 2100 S. Peoria Street, just a few minutes north of U.S. Cellular Field (home of course to the Chicago White Sox).
Our Chicago office, or Loop Shop as we like to call it, has been around for years providing a convenient location for our customers in the City, and offering the same capabilities as our Elmhurst office. The office houses a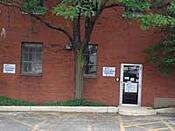 drive-in installation bay, technical support, sales, sales support, and customer service. Together, the team there has a combined 17+ years of service with Chicago Communications and it shows. Their commitment to responding to customer needs or issues is second to none. They pull together, gather support from the Elmhurst office when needed, and get the job done. Whether requesting a quote, having an issue, a question, or an installation request regarding a mobile, portable, or system, our Loop Shop team is ready, willing, and able to respond.
For many years, our Loop Shop has proudly served the many hotels, restaurants, building management companies, schools, public safety organizations, and federal government offices which make up our great city of Chicago, and Chicago Communications looks forward for doing it for many more years to come.
Whether you're in the city or the suburbs, ChiComm is here to help. So next time you're in the Loop, stop by and say Hi to Jimmy, Nancy or Walter.

This article was written by one of Chicago Communication's Principals, Cindy Glashagel. Cindy has over 27 years of experience in the industry. She held many positions during her tenure at Motorola, beginning with Systems Engineer and other various customer service, quality & operations management, and HR positions before resigning to start Chicago Communications, LLC. If you have any questions for Cindy, or another representative at ChiComm, please contact us.