In Chicago, logistics professional training is set to get a big boost with construction of a high-tech transportation, logistics and distribution (TDL) center at Olive-Harvey College. Work on the $45 million facility recently restarted after stalling last year amid Illinois state budget woes.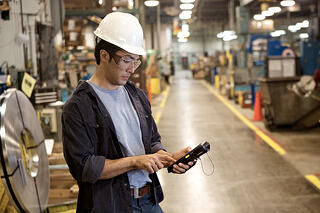 Industry Partnership to Fill Surge of TDL Jobs
The center is designed to help prepare students for 110,000 TDL jobs that are expected to come to the region in the next 10 years. The project was 60 percent done when work halted, and officials are hoping to finish construction in time for the Fall 2017 semester.
The facility is the first of its kind in Illinois and is a significant step forward for Olive-Harvey's TDL programs, which focus on air, rail and road transportation. With a commitment to hands-on training, the program's curriculum is being developed with industry partners and will serve an estimated 3,000 students.
The center itself will include features such as automotive and diesel engine laboratories, an engine dynamometer, classrooms, simulated driving facilities, a testing center and vehicle bays.
City Colleges of Chicago Logistics Hub
Students will also be able to gain industry-related experience at a high-tech central store warehouse environment onsite. The central store will act as a supply chain hub to provide office supplies to City Colleges' seven campuses, six satellites and the District office.
"The central store will provide a practical, real-world training ground for students by integrating operations with the curriculum by teaching students how to take orders, how to fill them, and how to do so in a timely manner," Chancellor Cheryl Hyman has said. "Our students will learn the key concepts of logistics and supply chain management needs in an organization that is the largest community college system in the state with thousands of employees and students."
Officials are hoping to get LEED Silver certification from the U.S. Green Building Council for the 103,000-square-foot building.
Olive-Harvey is one of the City Colleges of Chicago and is located on the Far South side. The school's wide-ranging TDL program is focused on teaching students, among other things:
The fundamentals of transporting raw and/or finished products from points of origin to customers;

The tools and skills required for getting a Commercial Driver's License (CDL);

Health & safety basics for TDL, such as OSHA standards, safe lifting practices and driver wellness; and

Opportunities for work in the public chauffeur field, including livery, limo and medical carriers.
To meet your needs for state-of-the-art logistics communications, contact Chicago Communications today!