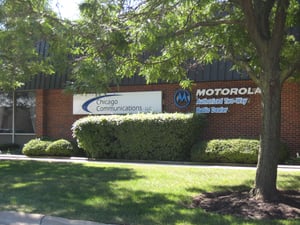 While Chicago Communications, LLC, was formed on October 1, 2004, our rich history of expertise and service to the Chicagoland area goes back much further—starting with two-way radios and evolving over time to extensive communications solutions across multiple industries.
Starting out
In 1952, Lou Bear and Art Pert formed a small business to install and service two-way radios for police, fire, trucking, and taxi cab agencies. This was before the Business Radio Service was formed in about 1960, which provided radio channels for small businesses.
Back then, two-way radios were large devices containing many electron tubes, requiring labor-intensive installation in the vehicles. The radios needed a lot of energy from the car battery, which often resulted in dead batteries. They also required considerably more maintenance than today's radios. Still, during those early years to be able to talk over-the-air was magic to most people.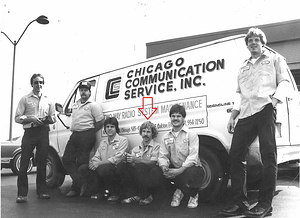 Chicago Communications played a major role in the growth of two-way radios in the Chicago area. In 1953, the company became an authorized Motorola Service Station. While all sales of radios and systems were done by Motorola, Chicago Communications provided service and installations to Motorola customers.
In the ensuing years, the transistor came into existence and dramatically changed the complexity of two-way radio as well as all electronic devices. The portable radio was developed, and over the years it became smaller, lighter and more efficient and less costly.
With these advancements came the expectations of the public. This included Chicago Communication's public safety customers, who soon needed both 100% coverage and 0% down-time. This presented the challenge and opportunity for Chicago Communications to design, supply, install, and maintain radio systems that come as close as possible to meeting those expectations.
In 2004, Gerry Bear sold Chicago Communications to Cindy Glashagel and Kurt Hessler, who brought on business adviser Ken Hessler. Learn more about our history here.
Today Chicago Communication's reputation in the marketplace is excellent, and we are committed to our constant internal effort to continually improve. We are a union company, represented by knowledgeable, trained, and experienced individuals in sales, system design, technical support, installation, maintenance, and backup services. Learn more about our capabilities and services.
If you have any memories of communications over the past 60 years leave a comment or contact us here!