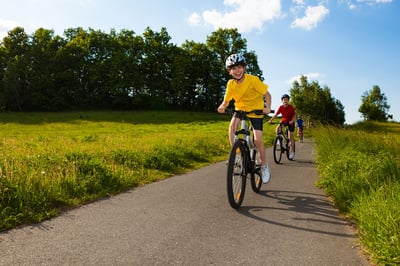 When we think of parks and recreational areas, we think of being in nature, experiencing peace and serenity. We go there to clear our minds, stroll with friends, or picnic with our families.
When a park is managed right, visitors don't have to worry about whether the park is safe and secure.
Keeping park facilities and visitors safe is the job of the park district, along with their communications provider.
When I started working with the Fox Valley Park District — Illinois' largest park district outside of Chicago — they faced challenges when it came to maintaining communications among hundreds of full‑time and seasonal employees. Employees were scattered at various locations among the District's vast acreage of facilities, parkland, water parks, golf course, and recreation centers.
District leaders were being asked to improve customer service while also reducing operating expenses. They had aging, outdated communications equipment and needed to upgrade their system to a reliable districtwide solution.
Below, I'll share some details about how Chicago Communications helped this park district achieve the results they were looking for with multiple solutions including expanding it's two-way radio system.
The Situation: A Large-Scale Park District
We are not talking about a neighborhood park with a playground.
The Fox Valley Park District currently includes 65 square miles. It owns and maintains 172 parks, 48 miles of interconnected regional trails amid approximately 2,500 acres of parkland and open space. The District has special facilities, including Red Oak Nature Center; two outdoor aquatic parks (Splash Country and Phillips Park); the 18‑hole Orchard Valley championship golf course; Blackberry Farm, a 54‑acre living history museum/theme park; and the Stuart Sports Complex regional park, a nationally recognized 400‑acre athletic field destination.
The District also owns several major indoor recreation facilities: Eola and Prisco Community Centers have been expanded multiple times to address the growing demand for recreation programs. The 225,000 square feet award‑winning Vaughan Athletic Center (VAC) includes a field house for multi‑sport use, nine indoor tennis courts, three indoor pools, and a large fitness and group exercise center.
The District has 102 full‑time employees and 750 part‑time and seasonal employees and serves a population of more than 237,000 people in a growing region; many of the District's residents live in the City of Aurora. The District was created and approved by voters in 1947 and is governed by a 7‑member elected Board of Commissioners.
That's a lot of parks and recreation to manage.
The Challenge
This District was being asked to provide improved customer service while reducing operating expenses. They were also looking to integrate and improve communications and security. The Operations Department was looking for someone who could work with them to tackle the following challenges:
Find a districtwide communications system that would allow all the sites to stay connected. They had an archaic radio system in place, and some parts were not even being used. Some staff used cell phones, and had no way to conduct group conversations.
Develop a seamless communications solution that would allow decision makers to contact front line staff in case of an incident, a weather emergency, or any need to change procedures across the whole team.
Find a solution to enhance security (access control) at their various sites.
Avoid the costly expense of hiring a personnel provider to lock and unlock 19 park shelters.
Reduce the amount of night‑time vandalism at a water park.
The District looked at solutions from several providers but found that these solutions lacked the ability to provide districtwide communications within their budget.
They also piloted a security system at a standalone facility and found that it did not serve their needs and that staff was not readily utilizing it.
"We needed connected platforms to solve all of these problems, and those solutions came to fruition with our partnership with Chicago Communications," says John Kramer, director of operations for the Fox Valley Park District.
The Solution
We met with the District's various stakeholders and talked through our ideas for solving their unique challenges. We helped explain to the field and administrative staff how the technology we had in mind would provide value and improve efficiency for the District, helping them stay within budget.
Here's what we figured out to solve this client's initial challenges:
The Park District Police Department upgraded its radio communications, including providing radio coverage inside numerous District buildings that were "dead zones" for their previous radios.
The District implemented a remotely scheduled door unlock and re‑lock system for 19 shelter facilities, avoiding the costs of contracting with a personnel provider to unlock and lock reservation‑only shelters.
The District's two‑way radio system allowed administrators to immediately locate each user, to best direct and redirect resources.
John Kramer says he appreciates the care we took to develop a solution for them, and explain it to everyone involved. "At no point have I ever felt like I did not have a resource or a path to success because of those teams," John says about the project sales/management and support teams. "We have made changes to the original solution, and at each step, no matter the ask, those teams have always been able to make whatever is necessary happen."
Clearly, we were improving the operations of this valuable public resource.
But we weren't done helping them.
Evolving System
This project had further phases that helped the District further refine its communications and security systems. The results of Phase 2 include the following:
The District added a custom software solution that allowed smartphone access to the scheduling aspect of the door control software.
They added a video surveillance and analytics solution at the water park to address losses resulting from vandalism.
They added radios for the water parks.
And here's the big one: Phase 3 involved expanding the District's radio system coverage area. We talked to municipal agencies in the region and found an excellent tower site.
The end result is a safer, better connected park district.
Working Together to Find Solutions
Finding communications and security solutions for this client was a collaborative effort, involving many moving parts and individuals.
And we have a great ongoing relationship with the District.
"No matter what we came to them with, whether it's related to sales, technical, or anything else, it was never 'no.'" says John. "But rather 'I believe we can come to some sort of solution for you.'"
John shares something that is so important to me in my role at Chicago Communications: that his staff is using their communications equipment to their advantage. "As an administrator, I can come up with ideas, but if staff don't find them easy/intuitive, if people don't use a solution, it's wasted," he says.
"I deal with a lot of contractors and businesses, on multiple platforms," John adds. "Chicago Communications has been a pleasure to work with. Things are always communicated promptly, clearly, and concisely, with every promise being fulfilled. I never feel like I'm alone in this."