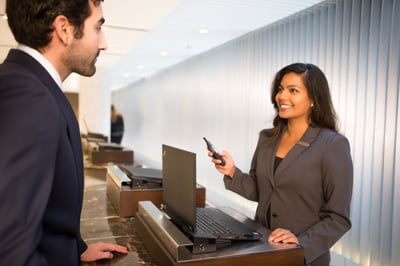 Operating a quality hotel, maximizing your facility and creating world‑class service are key to ensuring a positive guest experience and improving guest retention. But where does hotel technology fit into this? And how can it be used to give guests an exceptional experience at your property? Here, we look at what you can do as a professional in hospitality to use technology to your full advantage.
Invest in the Digital Experience
Today's travelers do plenty of research online before ever stepping foot in your facility. Guests evaluate your amenities by checking out your website and reading online reviews. They may even be drawn to your site by a digital ad or social media post. Once they decide on your hotel, they further consider the booking experience. If they make their reservation online, they look at the ease of the transaction. Was it secure? Was it simple? Did it instill confidence? Based on this, the first way to put hotel technology to work for you is to take a realistic assessment of the guest perspective of your hotel and make sure that their digital experience is as good as it is in real life.
Provide Coverage
Once they arrive at the front desk, guests want to continue to see that hotel technology. Are their cell phone calls coming through and is coverage clear and not spotty? If your property is in the mountains or in a wide‑open space, or in the heart of the city with walls of concrete, you may not be offering the best guest experience when it comes to their ability to connect with the outside world. You may need a bi‑directional amplifier or a distributed antennae system to ensure signals are getting through.
Also, how is your WiFi? It's been found that free WiFi is one of the most important parts of the guest experience, and 65% of guests get online within seven minutes of checking in. Now more than ever is the ideal time to evaluate your systems and make sure you're prepared for this growing trend in tech‑savvy guests.
Get Communicating
Next, consider how well you're empowering your teams to communicate with each other. The better they can connect, the better they can act on guests' requests, coordinate services, and report back about solutions. A powerful system of two‑way radios can ensure all departments have instant communication with each other, from off‑site management, transportation, housekeeping, guest services, to security. Two‑way radios can be effective tools for everything from the front desk to check on room status, to the limo driver at the airport to confirm arrivals. This piece of hotel technology is a must‑have in today's hospitality industry.
Add Surveillance
Finally, a critical component of hospitality technology is video surveillance. Well‑placed cameras in the lobby, on hotel floors, and outside rooms can go far in elevating the guest experience. It provides a visual log of guest activity and visitors, which can capture trespassing or criminal activity and improve guest safety. And, the mere presence of cameras can deter wrongful behavior and prevent crimes from happening. Guests see it as an investment in their safety and a commitment by your hotel to customer service and security.
Hospitality technology can be a gamechanger for hotels and properties, as it was in these six scenarios. More and more hospitality professionals are upping their technology to stay competitive and continue to attract guests who are becoming increasingly discerning. To find out more about the latest trends in hospitality, download our free Hospitality Survey Report of 2019.