Designer Alex Perry is one of the biggest names in Australian fashion, so you can imagine that the luxury Brisbane apartments and hotel that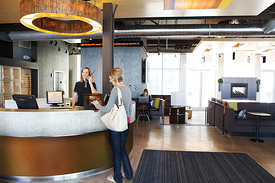 bear his name are works of art with an impeccable attention to detail, from the architecture all the way to the revolutionary hotel wi-fi solution.
"I'm fashioning apartment accommodation like I would a couture garment," Perry says.
The hotel's Ruckus Wireless system includes 140 wireless telephones across 12 floors that use the Ruckus R600 indoor 802.11ac wave 2 access points. This solution delivers both the guest Wi-Fi network and commercial grade telephony, as well as coverage for staff operations.
In-Room Handsets Travel Throughout Property
The comprehensive wireless solution means that guests can take their in-room telephone handsets anywhere on the hotel property without fear of dropping calls or losing coverage. It's geared toward meeting and exceeding the increasingly high expectations of guests when it comes to hotel wireless.
"Our guests enjoy a seamless in-room IT experience with both a high speed Wi-Fi connection (including a generous daily data allowance) and the in-room VOIP wireless telephones," says Ruth Carroll, revenue and operations manager of the Alex Perry Hotel & Apartments.
It was with three months to go that the builders realized that the original wireless provider wasn't going to make the deadline. So they brought in Delion, an Australian company that specializes in hospitality, shopping center, and hotel wi-fi solutions. Delion has said they chose the Ruckus Smart Wi-Fi solution without even testing any other options.
Aside from its functionality, the Ruckus solution also provided the aesthetics befitting a fashion designer's property: the sleek, discreet design of the R600 allows the 46 access points to blend in with the building.
Hotel Wi-Fi Not Just An Amenity
"Wireless is no longer just another amenity at hotels. It's become a prerequisite for doing business," says Pat Devlin, managing director of Ruckus Wireless ANZ. Devlin says two key elements of a hotel deployment like the Perry property are the patented Ruckus BeamFlex adaptive antenna technology and the SmartMesh wireless meshing.
BeamFlex technology focuses Wi-Fi signals only where they are needed and routes the signals around interference. SmartMesh lets hotels easily add Wi-Fi by plugging an access point into a power outlet, eliminating the need for bulky and costly Ethernet cabling.
Carroll, the hotel's operations manager, reports that guest feedback on the wireless system has been "very positive," with guests happy with their ability to easily connect with several devices over the Ruckus system.
What does 'WiFi' stand for? Find out here!
To meet your needs for hotel wifi solutions, contact Chicago Communications today!