ChiComm Employee Spotlight
Cindy Glashagel attended University of Illinois and Lake Forest College, earning a degree in Math and Computer Science. She also earned an MBA from Northern Illinois University, and a masters in International Business from Roosevelt University. She worked for Motorola for over 20 years and became a Principal of Chicago Communications, LLC in 2004. The pictures in this article are of a Motorola project she participated in that built the St. Joseph Child Development Center playground in 2002. [The following is told in her own words.]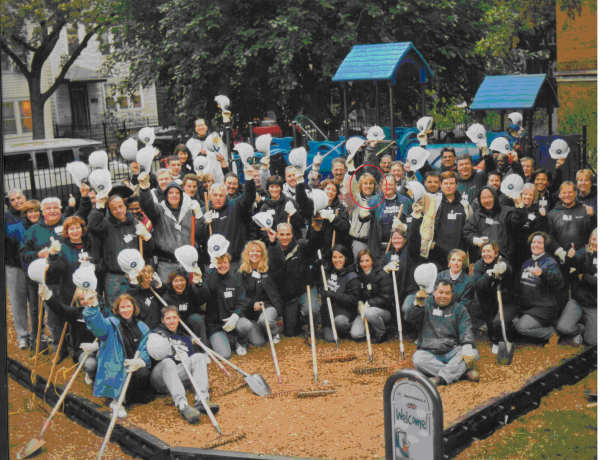 "Let's talk about me?! Well I started at Motorola as a Systems Engineer in the 1980's, writing software for the company-owned service centers. The software could track repairs, track serial numbers to document when the equipment came back in again, track amount of time you spend repairing something, amount of hours worked on it, print invoices,etc. Nothing has changed really since we designed that software years go, the application and uses of it are the same. It's fundamentally the same.
When I started at Motorola they had company owned service centers, which were basically companies like ChiComm all around the U.S., that Motorola owned. So I wrote the software and traveled around to a number of those company-owned service centers to help install and teach employees how to use the software. It was fun because we got to go out and meet all the people that ran Motorola Service centers. I did that for a number of years. After writing the software I spent some time customer service managing a help desk, and in a quality management department where we did a lot of software testing and releasing. Then I did my toughest job ever, but it was a job that definitely links back to where I am today. I was asked to go manage the 800 number dispatch center for the radio-side of the business in the U.S. The center was in charge of dispatching the appropriate service center whenever any equipment failed and a customer called the 800 number. I managed the dispatch center for a number of years, which was 24/7/365. And that helped me understand how these service center companies really worked. I remember seeing Chicago Communications and a lot of names of the technicians and managers from the dispatch calls pop up, and they are people that still work here today.
Another job that tied me to ChiComm was when Motorola asked me to become the operations manager of the system support center, which housed the 24/7 dispatch center, the board repair center and a remote diagnostic and technical support center. Again, it was a department in Motorola that worked with all the shops around the country. We had 124 employees, again with the demands of 7/24/365. After that I wanted to try something new and I felt I spent most of my time doing HR work, so I applied for a job in the global HR department at Motorola. This job allowed to me to travel to different places around the world and help to institute global HR programs. Motorola had a variety of employee empowerment/communications programs that we were required to implement -- teach people about the programs, distribute/collect surveys, and share the results. This job then rolled into an Organization Development role.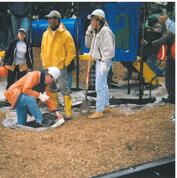 Not long after, Motorola started going through some changes; there were upwards of 100,000 employees at Motorola around the world at this time, but competition grew in so many areas, especially in the cell phone business, that job reductions began occurring and part of my job was to assist with these reductions. This part was very tough, and I was still traveling and working a lot of hours in addition to starting a family. After awhile, all of the downsizing and workload increases became more and more difficult to manage. Right around this time my father approached me with news that Chicago Communications was going up for sale. He had known the man who owned the company and his son for many years. When he asked how I would feel about purchasing the company I said absolutely, I am on board. My brother had spent 20+ years at Motorola in the sales/rental side of the two way radio business. And I had spent 20+ years on the service and HR side of the business. So when this came about, it was like Kurt's got the one end and I got the other, we've pretty much already done this kind of work at Motorola on a different level. We've worked with this organization before with rental, service, and sales sides, and my dad had worked with Motorola for so many years that he could fill in any of the gaps where we might lack.
It's already been over 7 years now since we purchased the company and we're still going strong. We're still focusing on the same key elements such as optimal customer service and building strong relationships with our customers. What we try to communicate to our customers is they can trust we won't oversell them. We want to understand your business and help you find a system that will run it better, easier and maybe even do so more cost efficiently. What I think sets us apart is our talented employees that know how to implement and integrate products into systems to come up with the best solutions available. We are building a relationship with you , we want you to be our customer for life; and we pride ourselves on not walking away. We'll see things through to the end to make sure everything you'd been looking for is running smoothly like it should."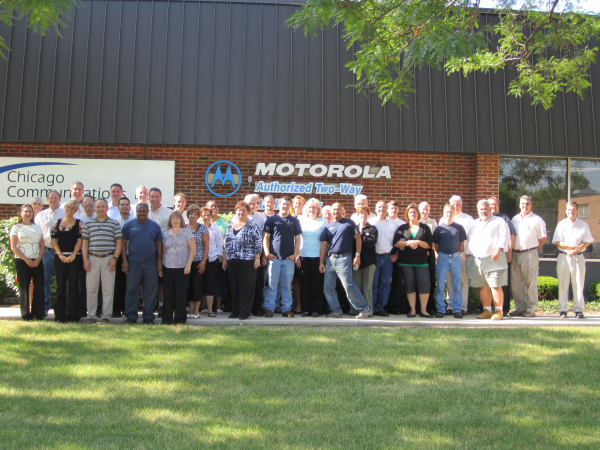 The ChiComm team today!