As veteran's day approaches we'd like to take the time to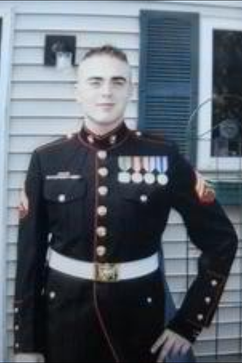 pause and thank our Veterans! Let's salute and honor those for being American soldiers, Marines, and sailors, and Coast Guard members, and National Guard members — all those who have served and currently still serve our country—for we deeply appreciate the sacrifices they have made in serving to keep our freedom intact.
The following are a majority of the veterans who currently work at Chicago Communications and who were kind enough to share their stories.
Owen Lauerman (Sales)
Owen (pictured right) served in the U.S. Marines from 1999-2004. He was stationed in too many places to name them all but ones that stand out to him are Camp Foster of Okinawa Japan, Camp Pendleton in California, and Alaska. Another significant point to make of his service was being in Iraq in 2003 where he was part of the first assaualt made on March 20th. He was an Acting Sgt. of 1st Mar Division, a .50 Cal gunner, who says his duties included not being shot. "I loved every minute of it, Would do it all over again if I had to," Owen says.
Joe Sopron (IT Manager)
Rank SP4 U.S. Army. Joe served at the United States Military Academy, West Point NY from 1971-72. He enjoyed programming new computer systems installed on Base and he also liked the idea of serving his country with Duty and Honor.
Emory Ludtke III (Shop Supervisor)
Emory (pictured below) served in the U.S. Air Force for 4 active years and 4 years in reserve reaching a Sargent rank. He joined in 1985 the day he turned 17. Another who traveled all over the world, Emory spent the most time stationed at an air base in NY and at Mt. Vergine in Italy. His specialization was in wideband communications. He tied together the digital European backbone that composed secure voice and data communications. Emory thoroughly enjoyed his time with the Air Force and would do it all over again if he could.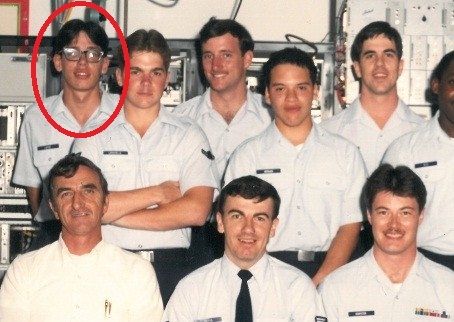 John Marquardt (Technician)
In his own words John describes his experience: "I served three years active duty in the Navy. I enlisted in July of 1965. Homeport was Newport, RI. I was a sonar technician(sub hunter). I am a Vietnam veteran. Of the three years about 2.5 were spent at sea. I have circumnavigated the globe and crossed the equator. The best part was getting out."
Ernie Chisholm (Technician)
Ernie was a member of the USAF actively serving from Oct 1983 to Dec 1993. His title was a Ground Radio Maintenance Technician. Over the decade he served he was stationed in:
Hanscom,MA (1984 to 1985); Camp Red Cloud, Korea (1986 to 1987); Barksdale, LA (1988 to 1989); Karatas Radio Relay Site, Turkey (1990) & Homestead, FL (1991 to 1993)
Highlights of his time served include being deployed to and serving in the AOR and Saudi Arabia for Desert Shield/ Desert Storm, earning 13 Medals and Awards including Air Force Commendation Medal and a couple of Air Force Achievement Medals. He Actually met his ex-wife in the gold market in Riyadh, Saudi Arabia before the war broke out. He was one of the last to leave base before Hurricane Andrew struck Florida in Aug 1992 and one of the first back on base to establish initial communications to the headquarters. A picture of him raising an American flag on a mobile antenna mast right after the hurricane was on the front page of Stars And Stripes.
Ray Hill (Sales)
Ray served the Marine Core from 1969-72. His duties included being a Platoon commander & handling logistics. He was stationed in Virginia & California as a 1st Lieutenant.
Dennis Ondriska (Engineering)
Dennis was in the US Naval Air from 1972-1978 as an Aviation Electronics Tech. He was

stationed at Naval Air Station (NAS) Millington in Tennessee, NAS Bermuda and at home base NAS Glenview. As an aviation electronics tech he was tasked with the repair of radio, navigation and related electronics on board P3 Orion ASW aircraft (pictured right) and A4 Skyhawk fighter jets.
Dennis says the "Best part for me was being able to work on aircraft, since at the time, I was also in private pilot training and was always interested in aircraft and the airfield environment. My other best part, was receiving my 'Honorable Discharge' in 1978."
Fred Budge (Technician)
Fred was drafted into the army in 1970 during the Vietnam war. He successfully served for 2 years as a basic infantry soldier until his honorable discharge. He was thankful to come back in one piece!
Bill Litwin (In-Building Systems)
Bill joined the US Air Force in 1962, serving for 4 years as an electronic aircraft technician and reached the rank of Sargent. During those years he was stationed mainly out of the country in places such as Japan,Korea, Philippine Islands,Vietnam,Canal Zone, Australia, & temporary assignments throughout the South Pacific & South America. The time spent in Vietnam was during the war. Bill's duties included maintenance of aircraft electronics, instrumentation & navigational aids. He was also in a tactical air command bomber support group & air reconnaissance group. "I learned the significance of what a third world country is all about & how good we have it in America. I had the experience of sailing with the US Navy on assignment & flying in a fighter/interceptor for fun. I'm proud to have served," Bill said.
Thanks again to all of the veterans here for sharing their stories and for dedicating their time to serve the USA.
This article was written by Jill McNamara, Internet Marketing Coordinator at Chicago Communications. Jill has written all of the Meet Our Techs & Employee Spotlight articles for ChiComm's blog and continues to seek opportunities for articles relating to the wireless communications industry. If you'd like to submit a suggestion for Jill, Contact Us!