Chicago Communications: From 1952 until Today
The company goes back to about 1952 being formed by Lou Bear & Art Pert (pictured left) to install and service two way radios for police, fire, trucking and taxi cab agencies/businesses. The Business Radio Service, which provided radio channels for small businesses, did not occur until about 1960. Two way radios in the early days were large devices containing many electron tubes, requiring labor intensive installation in the vehicles. The radios needed a lot of energy from the car battery (often resulting in a dead battery) and required considerably more maintenance than today's radios. Still, during those years, to be able to talk over-the-air was magic to most people.
Chicago Comm played a major role in the growth of two way radios in the Chicago area. In 1953 the company became an MSS (authorized Motorola Service Station). The company only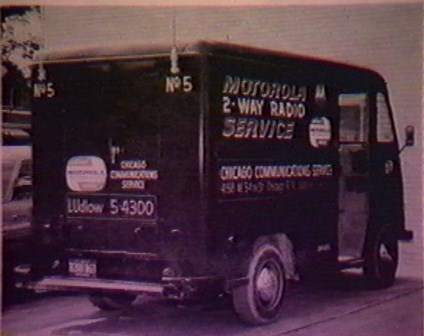 serviced customers in those days. All sales of radios and systems were done by Motorola employees (I was one of those salesmen). Chicago Comm installed and serviced radio systems for many of my customers.
In the ensuing years, the transistor came into existence and dramatically changed the complexity of two way radio as well as all electronic devices. The portable radio was developed and over the years became smaller, lighter and more efficient and less costly. Today, being able to talk over-the-air via a cell phone is taken for granted. This all took place over the last 60 years.
With these advancements came the expectations of the public, and in turn our public safety customers, that coverage (the ability to communicate) must be essentially 100%; and the down-time (the time a system is out of operation) zero. That presented the challenge and associated opportunity for Chicago Communications to develop the competency to design, supply, install and maintain radio systems that come as close as possible to meeting those expectations.
In 2004, Gerry Bear decided to sell Chicago Communications and called me. I talked to Kurt and Cindy (my children) who at the time each had 20 year careers at Motorola. Coupled with my 39 years at Motorola, we knew 'the territory', but running a small business was new to us. Almost 8 years have passed since the transfer, and the transition has been very positive. Today Chicago Comm's reputation in the marketplace it serves is excellent –with an internal effort to continuously improve.
If you have any memories of communications over the past 60 years you'd like to share leave a comment or contact us here!

This article was written by Ken Hessler, current Business Advisor at Chicago Communications, LLC. Chicago Communications, LLC came into existence to provide sales, installation and maintenance of communications equipment throughout the Chicagoland area, much like that of our predecessor. Ken retired from Motorola as a Sr. Vice President after 39 years. His wife, Marilyn, and children, are the other Co-founders and Principals of the company.
For more about the history of communications, read this article about the history of cellular!