Tom's Tech Talk #14: Local Two Way Radio Systems VS. Wide Area coverage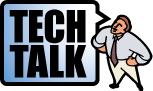 All radio systems involve communicating at a minimum between two individuals. For commercial systems this means connecting groups of people within a building. Today commercial systems, whether industrial manufacturing, hospitality or transportation, are requiring a wider area of coverage to communicate between individuals. So the question becomes, "How do I take my simple system and create something that communicates over a larger geographic area?"
One of the answers is Digital Mobile Radio or DMR. Todays' radio systems operate in a similar fashion to the cellular systems with digital. By converting these analog radio signals to digital we can take that data, wrap it with the proper coding and basically send it anywhere in the world. The details are a bit more complicated than that, but the concept is sound.
Motorola MOTOTRBO digital radios are such a system. This platform was developed with the ability for third party providers to actually write software that assists the radio in various applications. GPS location services and Man-Down features are great examples, just to name a few.
So how does MOTOTRBO help? In several ways:
1) IP Site Connect – This is configuration that allows two repeaters on two separate channels to be put in locations miles away. If you connect them through a broadband connection (data) you can make two separate radio channels combine to act as one. Should you have an administrative office miles from your production facility you can talk from the office to the plant over a two way system using this configuration. This will also work between states.
2) Linked Capacity Plus – In its basic form this is IP Site Connect with greater capacity. You can have multiple conversations and groups of users on a system that spans a great distance. This solution is to be rolled out this summer as part of Motorola's MOTOTRBO product line.
3) Connect Plus – This application would lend itself to a larger number of radio users and groups and a greater number of remote sites. This allows for the most capacity in a two way radio system at an economical price.
Along with the third party software applications, we can tie in smartphone technology and other interesting applications to enhance any of these systems. Contact us today to find out which solution may work for you.

This article was written by Chicago Communications' Sales Director, Tom Treichler. Tom has over 30 years of experience in the industry with a background in system integration. If you have any questions for Tom, or another representative at ChiComm, please feel free to contact us.