Once you've worked with your Motorola dealer to get the best MOTOTRBO radio solution for your business or agency, it's not uncommon to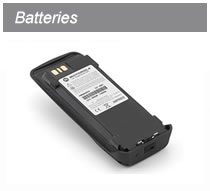 discover that your team needs accessories to make the best use of that solution. While the right research can make it possible to anticipate most staff needs prior to purchasing your system, it's always a good idea to set aside a budget and process for ordering Motorola radio accessories after the radios are in use.
Why Use Motorola Radio Accessoris Instead Of a Different Brand
Motorola has engineered its accessories to match the specifications and intended uses of their radios. While other brands exist, professionals who've tried them with their MOTOTRBO devices often get mixed results. One side effect of non-Motorola add-ons is "chopper noise," as this YouTube demo shows.
MOTOTRBO mobile radios are built with businesses, campuses and public safety agencies in mind, so chances are, no matter what sector you're working in, you'll find what you need. By working directly with industries and agencies, Motorola has developed accessories solutions well-equipped to seamlessly support a wide variety of use cases.
Here are some of the most in-demand Motorola radio accessories among MOTOTRBO users:
Antennas
Antennas are a lightweight and effective option to enhance your radio's frequency and ensure the best reception no matter where your work takes you. Unlike other antennas, Motorola's wideband UHF and VHF offerings provide coverage across an entire band and not just a portion.
Headsets and Earpieces
With an array of options across fit, size and functionality, there are almost as many MOTOTRBO headsets and earpieces as there are situations you can throw at them. Need a microphone-equipped headset that allows workers to transition seamlessly from a quiet office to the noisy boiler room? Check. Looking for a discreet earpiece for security surveillance or public safety activities? They've got you covered.
Microphones
Your microphone choices include heavy-duty keypad microphones, telephone-style handsets and sound-optimized options that attach to a car visor. When considering the best option for your team, keep in mind whether users will be wearing heavy gloves, what kind of mobility they need and what conditions or environments they may encounter.
External Push-to-Talk (PTT)
External push-to-talk buttons can be handheld or mounted to vehicles to ensure easy access – such as on a steering wheel – or come as discreet emergency footswitches. Paired with a vehicle visor-mounted solution, the external PTT allows conversations to continue without drivers having to take their hands off the wheel.
Carrying Cases with Belt Loops and Belt Clips
You want your team's radios to feel like a natural extension of their clothing or uniforms, so the right carry solution is key. Cases are available in various textures of nylon and leather, with belt loops that either stay in place or swivel. Belt clips are an option for smaller devices, along with wrist straps and holsters.
To learn more about Motorola digital radio technology and how it can benefit your company, contact Chicago Communications to set up a free consultation.